Catalan Speaker's Bail Set as Rajoy Seeks Release of Separatists
By and
Eight former Catalan officials jailed by Spanish judge

Rajoy wants separatists to join campaign for next month's vote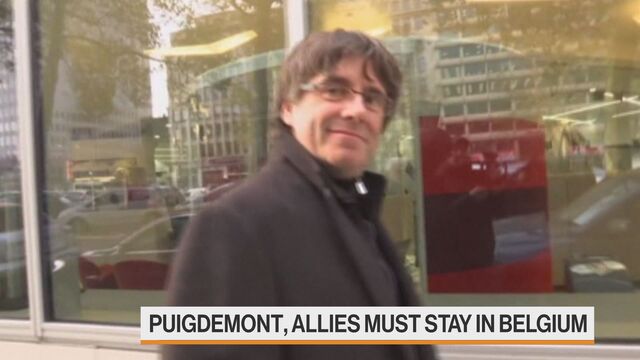 A Spanish judge set bail of 150,000 euros ($174,000) for the speaker of the dissolved Catalan parliament, taking a softer line on dealing with separatist leaders as Prime Minister Mariano Rajoy pushes for their release.
Supreme Court Judge Pablo Llarena decreed the terms for Carme Forcadell's release in a filing sent by email late Thursday, though she'll remain in custody until the surety has been deposited. He also set bail of 25,000 euros each for four other regional lawmakers and freed a fifth. The judge said he was swayed by their testimony that they would respect the Spanish Constitution in the future.

"That's Spanish democracy," ousted Catalan President Carles Puigdemont said in a tweet, adding that Forcadell would spend the night in jail "for having allowed a democratic debate." Opposition lawmakers have accused Forcadell of trampling over due process as she rammed through legislation for an illegal referendum on Oct. 1.
The spectacle of former Catalan officials serving time in jail as they await trial for their part in an illegal independence declaration last month is proving uncomfortable for Rajoy as he tries to restore stability. The central government is pushing for the separatist leaders' release and expects to see them freed in time to campaign for a regional election on Dec. 21, according to a person familiar with the matter.
The prime minister also wants to see Puigdemont released if he is returned to Spain from his self-imposed exile by a court in Belgium, the person said, asking not to be identified discussing government strategy.
Judges Under Pressure
While Spanish judges in theory operate independently from the government, political control over appointments leaves courts vulnerable to outside influence. In a survey of 1,285 active judges last year, 75 percent of respondents said the Judicial Council doesn't do enough to protect courts' independence and 9 percent of those ruling on political corruption cases said they'd been subject to pressure.
Puigdemont this week labeled the Spanish government "fascist" and accused it of violating his human rights after Rajoy seized control of the Catalan administration to restore order and eight former members of his cabinet were jailed by the National Court. On Thursday, Judge Carmen Lamela denied a request from the officials' lawyers that they be freed, El Pais reported.
Rajoy is confident the Dec. 21 election will show a majority of voters are opposed to independence and he wants to see Puigdemont and his allies play a full role in campaigning so that there can be no doubts cast on the legitimacy of the result, the person said. With Spain refusing the Catalans a legal referendum on independence, the regional election will be seen by many as a de facto plebiscite for its 7.5 million inhabitants.
After the election "everyone should fulfill their responsibilities as Spaniards and Europeans, and the first of those is to obey the law, the rules that allow us to live together and express the will of the majority," Rajoy said during a speech in Salamanca, Spain, Thursday.
Before it's here, it's on the Bloomberg Terminal.
LEARN MORE