Ross-Linked Firm Expanded Ties to Russia's Sibur After Sanctions
By and
Navigator doubled number of ships contracted for Sibur in 2014

Sibur says its shareholders not aware of Ross role in shipper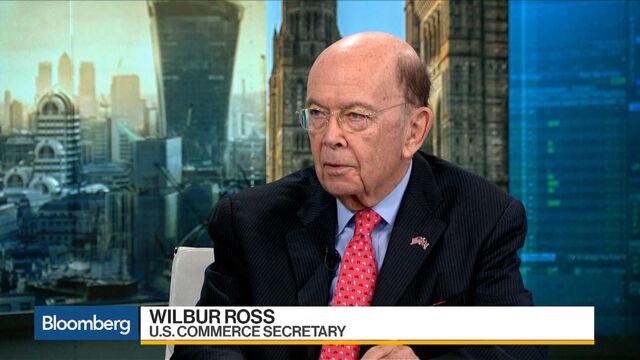 Navigator Holdings Ltd., the shipping firm part-owned by U.S. Commerce Secretary Wilbur Ross, doubled the number of contracts it had with Sibur Holding PJSC just months after the U.S. imposed sanctions on a major shareholder of the Russian petrochemical company in 2014.
Sibur itself wasn't subject to the restrictions, which the U.S. imposed over the Ukraine crisis, but they led to a broad chill in business ties between the two countries. 
Sibur's shareholders have particularly close ties to the Kremlin. Gennady Timchenko, a billionaire energy trader, was cited as a member of the "inner circle" by the U.S. Treasury when it imposed a visa ban and asset freeze on him in March 2014, held a stake of as much as 32 percent by September of that year. Kirill Shamalov, who is married to Russian President Vladimir Putin's younger daughter isn't subject to U.S. restrictions, raised his Sibur stake to 21 percent in late 2014. He later sold all but 3.9 percent.
Ross has come under fire in Congress for failing to include Navigator's Russian contracts in an ethics disclosure filed after his nomination. Navigator said in a 2011 press release announcing his purchase of up to 19 percent of the company that he would join its board. Ross told Bloomberg Television this week that he will "probably not" maintain his stake in Navigator and said that there was "nothing illegal, nothing even improper at all" in his dealings.
As recently as last year, Sibur said in a regulatory filing that Timchenko, the sanctioned billionaire, "has a significant influence over the group." His stake was 17 percent as of last month, according to the company.
More Ships
Sibur said it first contracted with Navigator for two ships in March 2012 and then signed deals for two more on Oct. 14, 2014, as it expanded its terminal near St. Petersburg to ship liquefied petroleum gas. 
"We signed the contracts only when we needed the vessels," Sibur's press service said in a written statement to Bloomberg. Navigator is one of a handful of companies that provide LPG tankers capable of working in icy northern seas.
Navigator didn't immediately respond to a request for comment.
Sibur said its business with Navigator amounted to about 0.7 percent of its $4.6 billion in annual costs -- which works out to about $30 million a year. The contracts covered only shipping and did not give Navigator any rights to resell the volumes, the Russian company said.
Sibur said its management knew that Ross was a Navigator shareholder before that information was reported by media this week, declining to specify when it became aware. The shipping deals were well within the limit for executives to approve them, Sibur said, noting that its owners did not know of Ross's role at the company.
"No one ever communicated with him," Sibur said of Ross. Sibur CEO Dmitry Konov met his counterpart from Navigator, David Butters, in London in March of this year, the Russian company said.
Ross was not involved in Navigator's decision to do business with Sibur and never met its shareholders, the U.S. Commerce Department said in a statement this week. Ross held his investment in Navigator through two funds he valued between $2 million and $10 million, according to the 57-page January financial disclosure.
Sibur said it has no plans to review the Navigator contracts amid the current controversy. But it added that it won't need one of the ships chartered from Navigator after 2019, when it diverts some supplies now going through the port near St. Petersburg to a new processing facility in West Siberia.
Before it's here, it's on the Bloomberg Terminal.
LEARN MORE