Pakistan's Central Bank Allays Concerns Over Widening Deficits
By , , and
Deputy Govenor Ahmad says export decline has bottomed out

Pakistan's currency is at appropriate level: deputy governor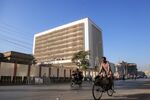 Pakistan central bank Deputy Governor Jameel Ahmad played down concerns over the nation's widening current account and trade deficits and said they will improve this year as exports begin to pick up and rising imports slow.
"There are challenges in the form of a growing trade deficit and also its impact on the current account deficit, but when you look at the recent trends I think things are moving decently," Ahmad said in an interview. "We are comfortable that during the current fiscal year given the expected inflows, given the level of remittances, given the trend in imports and exports, the economy will be stable based on these."
Speaking on Wednesday at the Bloomberg Pakistan Economic Forum in Karachi, Ahmad said a decline in exports, such as textiles, had bottomed out and taxes imposed last month on more than 700 "luxury" goods are expected to curb unnecessary imports.
Yet political turmoil this year and an increasingly precarious macroeconomic position led to the biggest foreign outflow from Pakistan's stocks since the 2008 financial crisis, even as the country was restored to emerging-market status by index provider MSCI Inc. The nation's current-account deficit more than doubled to $3.6 billion as of Sept. 30, while it's foreign-exchange reserves, which have fallen 17 percent this year, are lower than smaller neighbor Bangladesh, fueling speculation the nation will need to devalue the rupee.

While exports rose 11 percent to $5.2 billion in the quarter through September, that followed a drop to the lowest level in seven years in the last fiscal year ending June. Pakistan has seen $443 million of stock outflows this year.
"Foreign investors in particular are going to be quite concerned about what is the plan for Pakistan to finance a widening current account deficit," Bilal Khan, a senior economist at Standard Chartered Plc, said at the Bloomberg forum. "We haven't seen any policy response to the issues -- we have seen regulatory duties imposed or increased to curtail the current account deficit, we haven't seen the orthodox macro response."
Standard Chartered expects the deficit to widen to 5.3 percent of gross domestic product this fiscal year, from 4.1 percent last year.
The $283 billion economy is betting that more than $55 billion of Chinese finance infrastructure projects across the country will boost economic growth to 6 percent this year -- the fastest in more than a decade. However, China's Belt and Road initiative is also adding to a surge in imports, which has contributed to the deterioration in Pakistan's current account position.
Read: Pakistan's Economy Juggling Positive Growth But Fragile Deficits
Yet there are concerns that Pakistan will struggle to make foreign-currency repayments for the Chinese loans down the line. Ahmad said the central bank had done its own internal calculations, but declined to disclose details.
Pakistan has also faced criticism of its handling of the currency after a devaluation clash between the central bank and finance ministry in July. The rupee -- which is a managed float -- has recovered from that fall in early July and has been steady this year. Finance Minister Ishaq Dar blamed the regulator for "miscommunication" over the rupee's 3.1 percent depreciation against the dollar on July 5 and immediately appointed a new governor.
Company executives, economists and fund managers speaking at the Bloomberg Pakistan forum on Wednesday said a devaluation of the rupee was inevitable given the country's economic imbalances -- joining calls from the International Monetary Fund for the State Bank of Pakistan to abandon its grip on the currency and allow more flexibility,
"A lot of investors are only waiting for devaluation," Ami Kemppainen, a Dubai-based managing partner at Terra Nova Capital Advisors Ltd., said. "That's why you see investors sitting on the sidelines."
Ahmad dismissed views that the currency was overvalued and said the rupee was at an appropriate level dictated by the market.

Investors have also been spooked by the fallout from the disqualification of Nawaz Sharif as prime minister in July after the Supreme Court barred him from office after a probe into his family finances. Sharif, along with Dar, now face corruption charges related to the probe. Both deny any wrong-doing.
Read: How the Panama Papers Sunk Another World Leader: QuickTake Q&A
Despite the uncertainty, the central bank left interest rates unchanged for an eighth straight meeting in September. The "rate is quite reasonable from business perspective" with cement, steel, electronics and automobile industries expanding, said Ahmad, declining to give an future outlook.
Inflation has remained steady at 3.8 percent last month. The central bank expects consumer prices at around 5 percent this fiscal year if oil prices don't spike upward.
"Internationally the commodity prices are at quite a reasonable level," Ahmad said. "It's manageable."
Before it's here, it's on the Bloomberg Terminal.
LEARN MORE