Macy's Gains as Department-Store Chain Stokes Holiday Cheer
By
CEO sees e-commerce and loyalty program helping fuel demand

The shares increase as retailer keeps its 2017 outlook firm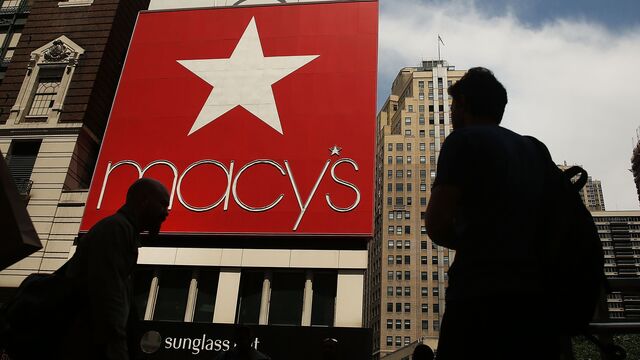 Macy's Inc. remains optimistic about the holiday season -- and investors seem to be giving management the benefit of the doubt, at least for today.
Shares of the company rose the most in more than a year after it reaffirmed its full-year guidance and kept margins steady in the latest quarter, even after the key metric of same-store sales fell more than Wall Street expected. Chief Executive Officer Jeff Gennette sees e-commerce and the Macy's loyalty program fueling sales in the crucial year-end season.
"They showed they can manage the gross margin in this environment, which has been difficult," said Jerry Storch, head of Storch Advisors and former CEO of Hudson's Bay Co. "Certainly these are better results than we've seen in recent months."
The season marks a crossroads for the largest U.S. department-store chain, which is trying to get back on its feet after three punishing years. The company has been slashing costs, closing stores and reducing inventory -- all in a bid to adapt to brick-and-mortar retail's new realities.
How America's 'Retail Apocalypse' Is Really Just Beginning
This week provides a broader gauge of department-store health, with several of the biggest chains reporting their quarterly results. Kohl's Corp. posted a disappointing earnings forecast on Thursday morning, sending its shares tumbling. Nordstrom Inc., which is coming off a failed attempt at a leveraged buyout, plans to deliver its results after the close. J.C. Penney Co., meanwhile, weighs in on Friday morning.  
Investors have been skeptical of the sector. Macy's shares lost more than half of their value this year through Wednesday's close. The company got some reprieve on Thursday, however, when the shares rose as much as 12 percent to $19.70 -- the biggest intraday rise since August of 2016.
Macy's cost-cutting efforts have bolstered profit. Excluding some items, earnings amounted to 23 cents a share last quarter. Analysts had projected 16 cents. The company said gross margin improved, "primarily due to our tightly controlled inventory position."

But total comparable sales -- known in the industry as comps -- fell 3.6 percent in the third quarter. That was a bigger drop then the 2.5 percent analysts were expecting. In a conference call, company officials said that the hurricanes that battered Florida and Texas during the period cut sales by about $20 million.
"People get why our comps were what they were," Gennette said in a phone interview. "When you looked at what happened in the weather and with hurricanes and tourism, people get it."
The chain affirmed its forecast this year for a decline of as much as 3.3 percent at stores that it owns. It sees adjusted earnings at $2.91 to $3.16 a share.
Chief Financial Officer Karen Hoguet told investors on the call that cold-weather merchandise sales are short of the company's expectations by about $50 million.
Free Shipping
She added that fourth-quarter gross margin is being affected by an offer for free shipping. Retailers have raced to offer delivery specials to attract shoppers who increasingly are spending their money online.
Macy's is focused on pricing this year. Competition has forced the chain to rely heavily on discounts to more merchandise. To improve its position, Macy's is adding exclusive items that customers are -- ideally -- willing to pay more for.
"I'm feeling good about the mood of the consumer and I'm feeling good about our holiday plans," Gennette said.
Before it's here, it's on the Bloomberg Terminal.
LEARN MORE