Immigration Will Dominate Hungary's 2018 Elections, Orban Says
By
Premier sees open-door policy aimed at hurting Christian roots

Orban says family policy not immigration can help demographics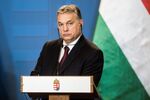 Hungarian voters will decide in next year's elections whether they will remain a "free nation" protecting their cultural heritage or join those who are eroding Europe's traditional values by supporting immigration and integration, Prime Minister Viktor Orban said.
Orban has clashed with fellow European Union leaders over his rejection of deeper cooperation among the bloc's members and refusal to shelter immigrants fleeing war and poverty. The target of international criticism for democratic backsliding, he has kicked off his campaign to win a third consecutive term by lashing out at foreign forces he says are trying to undermine Hungary. Among his top targets have been German Chancellor Angela Merkel's open-door policy for refugees and Hungarian-born billionaire George Soros.
"The most important danger is the debate between globalists and nations," Orban told a conference of Hungarian diaspora in Budapest on Thursday. "Europe has decided that it can step into a post-Christian and post-nation world."
Immigration policy will be a key factor shaping the vote, said Orban, who has built a fence along parts of Hungary's southern border to prevent an inflow of refugees. Hungary has joined with Poland, Slovakia and the Czech Republic -- EU nations that remain largely homogeneous following 40 years of totalitarian rule behind the Iron Curtain -- in rejecting mandatory quotas for housing immigrants in what has been Europe's worst refugee crisis since World War II.
Unlike some other countries, Hungary doesn't want immigration to solve its demographic problems of an aging population and a looming labor shortage, Orban said. Instead, he will focus on family-friendly policies to increase the population.
Orban's outspoken opposition to immigration precedes the gains won by anti-Muslim and xenophobic parties across the EU in elections this year. In power since 2010, he has been a key figure in testing the bloc's cohesiveness at a time that leaders, following Britain's decision to leave, are debating its future framework.
Other leaders who are skeptical or downright hostile to the idea of more integration of the EU are also gaining ground, which Orban has taken as justification of his approach. Last month, Czech billionaire Andrej Babis's ANO party, which opposes immigration and is against deepening integration within the EU, dominated general elections, and he's now trying to create a minority government. In Austria, the nationalist Freedom Party, which holds a hard stance on refugees, is in talks with the conservatives about a ruling coalition.
Orban, whose Fidesz party is the favorite in next year's vote, said he expects to "easily" find common ground with the next Austrian government in EU debates. Backers of deeper integration in Europe are "intentionally" bringing people from foreign cultures into the bloc to weaken their Christian and national characters, he said.
Before it's here, it's on the Bloomberg Terminal.
LEARN MORE