House Judiciary Chairman Bob Goodlatte Says He's Retiring
By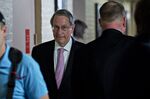 House Judiciary Chairman Bob Goodlatte, a Virginia Republican, said Thursday he won't seek re-election next year.
Goodlatte, who entered Congress in 1993, said in a statement that "this is a natural stepping-off point" because under GOP rules he would give up the Judiciary Committee chairmanship after this term. He also previously was Agriculture Committee chairman.
He is the third GOP House member to announce his retirement this week, after Ted Poe of Texas and Frank LoBiondo of New Jersey, and the third committee chairman in the past several weeks, following Financial Services Chairman Jeb Hensarling and House Science, Space and Technology Chairman Lamar Smith, both of Texas.
45 Members of Congress Not Seeking Re-election
Goodlatte's announcement comes two days after Democrats swept the statewide offices in a Virginia off-year election and gained a number of seats in the state House of Delegates.
On Wednesday, Goodlatte's committee approved legislation to restrict law enforcement access to information collected by National Security Agency. The measure would extend the NSA's authority to spy without a warrant on foreigners' internet and telephone communications, which is set to expire at the end of the year.
Before it's here, it's on the Bloomberg Terminal.
LEARN MORE