Adidas Sales Growth Decelerates More Than Analysts Expected
By , , and
Shares drop as much as 3.8 percent in Frankfurt trading

North America, China grow by double digits as Russia slips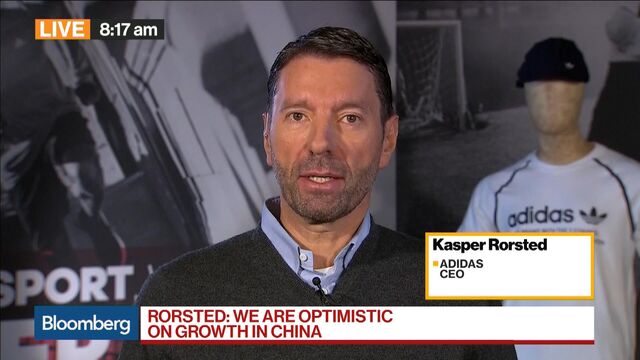 Even Adidas AG can stumble sometimes as it gains ground on sporting-goods market leader Nike Inc.
The German company's growth slowed faster than analysts expected in the third quarter, sending the shares to their steepest drop in 12 weeks. Sales of basketball and soccer gear fell after sponsorship contracts ended and the company stepped up plans to trim its store network in Russia after business declined there.
"Some market participants might be concerned by the slower top-line momentum," Warburg Research analyst Joerg Philipp Frey said in a note. The shares traded as much as 3.8 percent lower in Frankfurt, the biggest intraday drop since August.
While overall revenue still advanced by 8.7 percent, that was less than half the pace of the second quarter. Operating profit rose by more than one-third to 795 million euros ($923 million), beating analyst expectations, as the company sold more expensive products. Revenue in North America grew by nearly one-fifth to 1.1 billion euros, an all-time high, while growth slowed in western Europe, still the company's biggest market.
"So far we have grown every quarter this year with 30 percent-plus in the U.S., and we are not seeing any slowdown," Chief Executive Officer Kasper Rorsted said in an interview with Bloomberg TV. "We continue to see very, very strong demand for our products, and we continue to expect a very strong fourth quarter. It's clear we are gaining market share in the U.S."
The sporting-goods industry this year has been a tale of divergence. Under Armour Inc. posted its first sales decline since it went public last month, while Puma SE, like Adidas, is benefiting from a trend toward more sportswear worn outside of gyms, prompting it to lift its profit forecast three times this year. Amazon.com Inc. is also moving into private-label sportswear, setting the stage for further upheaval in the U.S., where Adidas's Reebok brand is already struggling to turn a profit.
'Big Enough'
"Overall the market is big enough also for an Amazon moving into this market," Rorsted said in the interview. "We think that will not change the market fundamentally, but we are seeing the consumers going online."
Revenue generated from electronic commerce advanced by more than one-third in the quarter, the company said. While sales of Adidas-brand products jumped 10 percent, those of Reebok declined, and Rorsted said it may take until next year for the brand to grow again.
"The rate of revenue and earnings growth is likely to moderate after two and a half years of super-cycle," Piral Dadhania, an analyst at RBC Europe, wrote in a note. "We believe the quality of the margin and profit beat should be well-received by the market."
Japan and Russia were the only regions where the company's revenue fell in the quarter. Rorsted stepped up efforts to stem that trend by closing about 200 stores in Russia, up from an earlier target of 150. He said he doesn't expect fundamentals in Russia to improve much before oil prices rise and sanctions are lifted. By contrast, the company plans to add about 2,000 stores in China by 2020.
Before it's here, it's on the Bloomberg Terminal.
LEARN MORE