Shale Oil Surge Still Hammering OPEC Push to Drain Glut
By
Drillers hit highest output in decades; Conoco boosts spending

U.S. drillers play the bogeyman to hopes of higher prices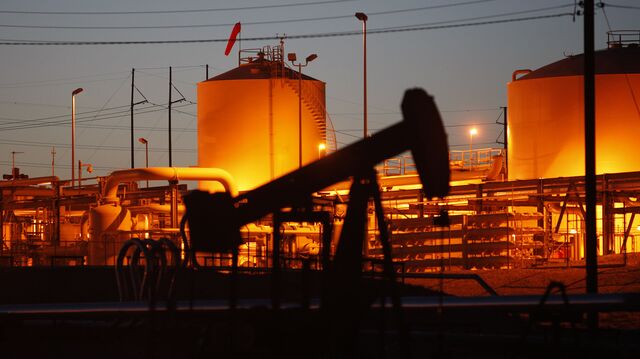 U.S. crude output skyrocketed to levels not seen in more than three decades, putting an exclamation point on OPEC's forecast for untrammeled expansion in American shale fields.
The output surge and a surprise jump in U.S. crude stockpiles spooked the market Wednesday, dropping prices below $57 a barrel and spurring dire worries that the historic OPEC-led supply curbs set to expire in March may need to be sustained for an extended period to pierce the market glut.
Even as American drillers embrace the new religion of profits-over-production, OPEC's latest long-term forecast focused on the ability of shale explorers to thrive regardless of prices. On Wednesday, a U.S. government tally showed weekly output at its highest since at least 1983. Meanwhile, ConocoPhillips, the world's biggest independent explorer, pledged to devote $1 billion more to drilling next year, a 22 percent increase.
"It's a brave, new world in the oil market," said Bernard Weinstein, associate director of the Maguire Energy Institute at Southern Methodist University.
Although the Organization of Petroleum Exporting Countries' output limits have fueled a 42 percent price rally since late June, OPEC Secretary-General Mohammad Barkindo on Tuesday signaled the producers' determination to stay the course through the end of 2018. The bogeyman haunting the Saudis, Russians and other major suppliers: U.S. shale, which shows no signs of backing off until at least 2025.
The U.S. rig fleet may be shrinking, but production isn't. It's risen 9.7percent this year, on track for its steepest annual increase since 2014.
Daily production averaged 9.62 million barrels last week, the highest since the federal government began tracking the data in that format in the early 1980s. That said, monthly government assessments considered by many to be more accurate snapshots showed a slightly higher production tally -- 9.626 million a day -- for April 2015.
OPEC surprised investors on Tuesday by boosting its long-term estimate for growth in North American shale production by 56 percent from a year earlier. The 12-nation group now expects output from the continent's shale wells -- which weren't even a blip on worldwide markets a decade ago -- to reach 7.5 million barrels a day in four years.
OPEC singled out the Permian Basin of West Texas and New Mexico as a stand-out performer. Investors pouring billions into the region include Exxon Mobil Corp., Chevron Corp. and Occidental Petroleum Corp., all of whom have shifted substantial resources and staff away from less profitable overseas projects.
As if on cue, ConocoPhillips on Wednesday said drilling outlays will expand next year to $5.5 billion and remain at that level through 2020. That was a course reversal for the world's biggest independent oil explorer after billions of dollars in asset sales and two rounds of budget cuts earlier this year.
Still, there are hints on the horizon that the shale boom may be limited.
On-the-ground metrics closely watched by petroleum engineers -- obscure measures like production per lateral feet drilled -- are trending against boundless long-term growth in shale supplies, according to Morgan Stanley research. That, along with a shortage of fracking crews and the specialized gear they employ, suggests that shale explorers may soon bump up against physical barriers curtailing their expansion, Morgan Stanley analyst Martijn Rats said in a note to clients.
One prominent oil explorer who doesn't share OPEC's dire view of the threat posed by U.S. shale includes Mark Papa, an architect of the shale revolution when he was CEO at EOG Resources Inc. Papa, whose private equity-backed Permian driller has almost doubled in value since its 2016 debut, told a London conference that expansion in the busiest North American shale field already has begun leveling off.
"U.S. production is not nearly the Big Bad Wolf that everybody thinks." Papa said.
OPEC's economists and forecasters don't see shale oil production peaking until some time after 2025. It will start to ebb in 2030 or later, they wrote. At that point, the cartel will see demand for its crude climb from about 33 million barrels a day in 2025 to 41.4 million 15 years later, according to the report released on Tuesday.
Vienna Meeting
In the meantime, OPEC and allied producers including Russia are scheduled to meet in Vienna on Nov. 30 to discuss an extension of their supply-restraint accord beyond the end of March. Since the start of this year, the group has largely stuck with targeted output cuts of about 1.8 million barrels a day.
In response, the price of crude has risen. The international benchmark, Brent crude, rebounded more than 10 percent for the year.
"Oil demand continues to grow, OPEC output stays restrained and there is little growth elsewhere," Morgan Stanley's Rats wrote in his note. "This raises the world's reliance on shale."
— With assistance by Alex Nussbaum, Angelina Rascouet, and Jessica Summers
Before it's here, it's on the Bloomberg Terminal.
LEARN MORE