Russian Hackers Fueled Catalan Separatism, Madrid Institute Says
By
Disinformation spread on Facebook, Twitter, analyst says

Assange, Snowden singled out for their impact on debate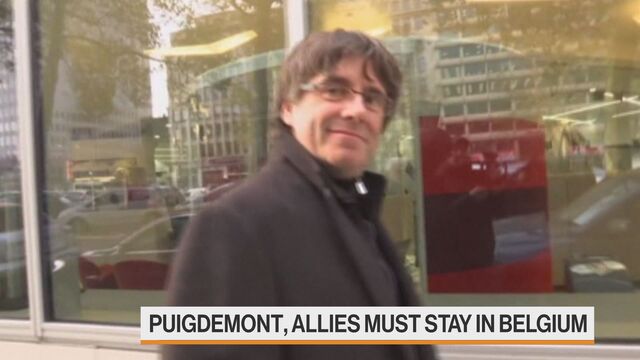 Spain's struggle to quash separatism in its Catalonia region was disrupted by Russian hackers agitating for a break-up, in a hallmark propaganda effort to fracture Europe, according to a government-backed research institute in Madrid.
The unidentified Russians spread both true and false messages on Facebook and Twitter during the illegal separatist referendum on Oct. 1, according to Mira Milosevich, a senior analyst at the Elcano Royal Institute. The "dezinformatsiya" campaign deployed trolls, bots and fake accounts, and was backed by intense coverage from Russia's state-supported television, she said.
"Russia has a nationalist agenda, and it supports nationalist, populist movements in Europe because that serves to divide Europe," Milosevich said Wednesday in an interview. The researcher had just published an article building on a Sept. 25 El Pais newspaper report that linked fake news on Catalonia with allegations of Russian influence in the Brexit campaign. Elcano is part-funded by the Spanish government and its board's honorary chairman is King Felipe VI.
The reports of Russian attempts to influence local politics have stirred up Spain's political scene as the U.S. and U.K. governments investigate assertions Russia tried to interfere in last year's presidential contest and the Brexit vote. A Russia Foreign Ministry spokeswoman said she couldn't immediately comment.
Spanish Prime Minister Mariano Rajoy's unprecedented crackdown used traditional police and cyberpolice, who shut down some of the pro-independence websites that fostered the rebellion. Now Rajoy is betting that he can uncover a silent, pro-Spain majority in Catalonia that can help him restore order to the rebel region in a December election.
Assange, Snowden
The most significant comments spread on Twitter and Facebook came from WikiLeaks editor Julian Assange and government-secrets leaker Edward Snowden, Milosevich said, particularly that the "banana republic" of Spain used violence to suffocate a democratic vote. The comments "were retweeted and shared on Facebook by trolls and bots," she said.
For his Twitter profile photo, Assange is using a shot of Spanish riot police, clad in black protective gear, with one of them swinging his baton.
"What is happening in Catalonia in the most significant Western conflict between people and state since the fall of the Berlin Wall -- but its methods are 2017, from VPNs, proxies, mirrors and encrypted chat to internet surveillance and censorship, bot propaganda and body armor," Assange tweeted the day before the Oct. 1 separatist vote.
— With assistance by Stepan Kravchenko, and Esteban Duarte
Before it's here, it's on the Bloomberg Terminal.
LEARN MORE