NATO to Boost Command Sites, Cyber Policy With Eye on Russia
By
Alliance plans two new command centers, reversing trend

Cyberspace joins traditional domains of air, land and sea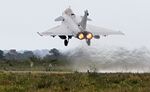 The North Atlantic Treaty Organization moved to upgrade its command structure for the first time since the end of the Cold War and gave greater weight to cyber defense in signs of heightened geopolitical tensions with Russia.
NATO defense ministers agreed to increase the number of military headquarters run by the alliance to nine from seven. One of the new command centers will focus on maritime security in the Atlantic and the other will be responsible for troop movements in Europe, with the locations due to be chosen next year.
At a meeting on Wednesday in Brussels, the ministers also decided to integrate cyber into all NATO operations. The step puts this area on par with the alliance's traditional domains of air, land and sea. It's consistent with a 2014 decision by NATO to broaden the scope of its collective-defense commitment to cover cyber attacks.
"We have seen a much more assertive Russia," Jens Stoltenberg, the 29-nation alliance's secretary general, told reporters at the Brussels meeting. "We have seen a Russia which has over many years invested heavily in their military capabilities, modernized their military capabilities."
Two Fronts
The policy revamp highlights two fronts beyond terrorism on which western defense planners are active: the re-emergence of conventional military threats and the risk of hybrid warfare including cyber attacks. In both cases, Russia is on NATO's radar screen.
The plan to add two NATO headquarters reverses years of steady cutbacks in the alliance's command structure amid renewed Russian muscle-flexing, including encroachment in Ukraine where Russia annexed Crimea in 2014 and the government in Kiev is battling Kremlin-backed separatists in the eastern part of the country.
NATO's seven current headquarters have 6,800 personnel compared with 33 headquarters that had 22,000 personnel at the end of the Cold War a quarter of a century ago. The most recent scaling back came in 2010-2011, when the number of headquarters was reduced from 13 with 13,800 staff members.
Russian Meddling
"The NATO command structure is the backbone of the alliance," Stoltenberg said. "The command structure has to change when the security environment is changing."
As the U.S. looks into Russian meddling in the 2016 presidential election, the European Union grows increasingly wary of pro-Russia propaganda across the bloc and NATO faces hundreds of attacks on its electronic networks each month, the alliance's defense ministers tied cyber policy to the planned expansion of headquarters.
The goal, said Stoltenberg, is for NATO to be "just as effective in the cyber domain as we are in air, on land and at sea."
Before it's here, it's on the Bloomberg Terminal.
LEARN MORE