Fed's Harker Backs December Hike, Says 2018 Hinges on Inflation
Jeanna Smialek and Alister Bull
Harker wants to raise rates to give Fed crisis ammunition

No sign that inflation is running out of control 'in any way'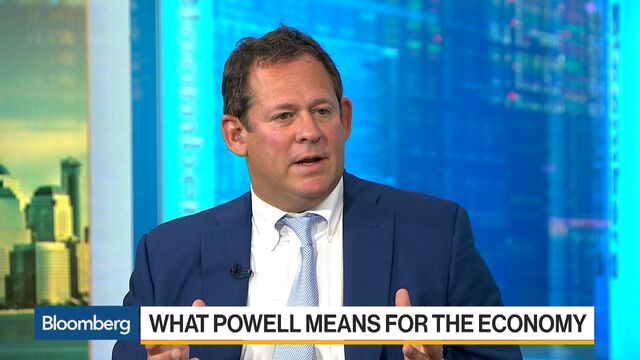 Federal Reserve Bank of Philadelphia President Patrick Harker suggested he'll likely support a third 2017 interest-rate increase next month, but said he wants to see signs of inflation moving higher before backing tightening next year.
Harker has "not at this point" seen anything that would push him away from a widely expected hike at the Federal Open Market Committee's December meeting, he said in an interview Tuesday at the Philadelphia Fed. After that, he wants to see clear signs that inflation is accelerating before moving again.
"I have penciled in right now, in my SEP, three increases for 2018, but I will reassess that as the data comes in," he said, referring to the Fed's Summary of Economic Projections. "Some of the underlying numbers, like wage growth, job openings and hires, if we saw that that wasn't translating to higher prices -- our dual mandate is very clear, it's stable prices."
Harker votes on monetary policy this year. He and his colleagues are trying to assess how quickly to tighten policy as the job market and prices send conflicting signals. Unemployment is at its lowest level since 2000 and employers report widespread worker shortages, yet price gains have held stubbornly below the central bank's 2 percent goal, with core inflation just 1.3 percent in September.

While the Fed's latest forecasts show expectations for three rate increases next year, according to the median estimate from their projections released in September, trading in federal funds futures indicate investors see only one or two hikes in 2018.
Little Risk
While some Fed officials advocate lifting rates to avoid a situation where inflation shoots up abruptly, forcing them to tighten rates quickly, Harker said he sees little risk of that happening.
"I don't see any signs that inflation is running out of control in any way,'' Harker said, explaining that he wants to boost rates "for a variety of reasons -- but most notably to give us the leg room, that is, having the fed funds rate high enough so that if and when the next recession comes, we'll have some room to move."
Fiscal policy makers in Washington are attempting to pass tax reform plan, but that has little bearing on Harker's thinking.
"We need more specificity as to what those programs would entail," he said. "We have not yet, in our Philadelphia forecasts, put in any fiscal stimulus."
'Slow and Steady'
The Philadelphia Fed chief said he doesn't see financial stability risks within regulated industries, noting that commercial real estate and subprime lending seem to be reining themselves in. He said he's attuned to the fact that financial conditions have eased even as the Fed has lifted rates and started unwinding its balance sheet.
"That's why I think we have to be slow and steady in terms of any hike to avoid any risk of inverting the yield curve," he said. "That would not be a good thing.''
The Fed is entering into a leadership transition. Chair Janet Yellen's term expires in February, and President Donald Trump has nominated current Governor Jerome Powell to replace her.
If Yellen doesn't stay on as a governor after her term as chair ends, it could cut the Fed Board in Washington to three members -- leaving four empty seats. The Richmond Fed presidency is also vacant, and New York Fed President William Dudley on Monday announced that he will retire in mid-2018.
Harker expressed comfort with Powell's nomination, calling him "smart" and "reasonable," and said that with so many other positions up for grabs, the key is to avoid group-think.
"We don't want 12 or 19 of the same person," he said. "It's really the portfolio of the committee that makes the committee effective."
Before it's here, it's on the Bloomberg Terminal.
LEARN MORE