Ex-Saudi Crown Prince Makes a Rare Public Appearance
By
Prince Muhammad bin Nayef was said to be under house arrest

More than 10 princes were arrested this week in crackdown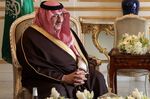 Saudi Arabia's former Crown Prince Muhammad Bin Nayef made a rare public appearance following his ouster in June in a palace shakeup that brought his younger cousin closer to the throne.
Prince Muhammad, who was also removed from his post as interior minister, attended the funeral of another senior prince who was killed in a helicopter crash this week. The Saudi-owned Al Arabiya television posted a photo of the prince, known among journalists and diplomats as MBN, at the funeral. Photos of him at the event also circulated on social media.
The appearance may help dispel rumors that MBN was under house arrest imposed by King Salman and his son, Crown Prince Mohammed Bin Salman, who this week arrested more than 10 princes and dozens of officials and businessmen in what authorities describe as an anti-corruption push. Critics say the crackdown smacks of a power grab designed to pave the way for Prince Mohammed's elevation to the throne.
King Salman followed the removal of the former heir, a conservative prince who had spearheaded the kingdom's fight against extremists, by overhauling the Saudi security forces, stripping the Interior Ministry of key powers and setting up a homeland security agency under his control.
Before it's here, it's on the Bloomberg Terminal.
LEARN MORE