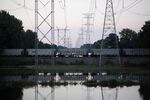 As the Trump Administration seeks to prop up struggling coal power plants, Duke Energy Corp. has come up with its own solution: Let them run on natural gas.
The company plans to spend about $200 million in the next three years converting four North Carolina coal-burners that will in future be able to use both fuels.
"It gives us the opportunity to take advantage of lower fuel costs, whether it's coal or natural gas, today or in the future," Rick Rhodes, a company spokesman, said by phone Wednesday. The first is expected to be up and running by the end of next year.
It's a departure for Duke, which in the past has knocked down coal plants to replace them with new, efficient gas turbines. Competition from cheap gas supplies and renewables has triggered hundreds of plant shutdowns in recent years. That's spurred Energy Secretary Rick Perry to propose extra payments to keep even more from closing.  

Switching to gas is hardly a panacea for the challenges facing the nation's coal plants, said Will Nelson, an analyst at Bloomberg New Energy Finance in New York. Gas plants with boilers, like coal plants, have been shutting down because they can't compete.
Heating up a boiler means it can take hours to bring a plant online, while turbine generators can fire up in minutes. Duke expects three of the converted generators will fire up faster with gas, while costing far less than building new gas-fueled plants.
Its plans call for as much as a 50-50 mix of gas and coal in two units at the Belews Creek plant. The target is 100 percent gas for Cliffside 6, its newest coal-burner, completed in 2012, and 40 percent gas for a companion unit that began running in 1972.
Regulatory approval is pending for gas lines to the plants.
Before it's here, it's on the Bloomberg Terminal.
LEARN MORE