Democrats, Eyeing Midterms, Score Wins in Key Governor Races
By and
Ralph Northam, Phil Murphy win battles in Virginia, New Jersey

Trump distances himself from Ed Gillespie's loss in Virginia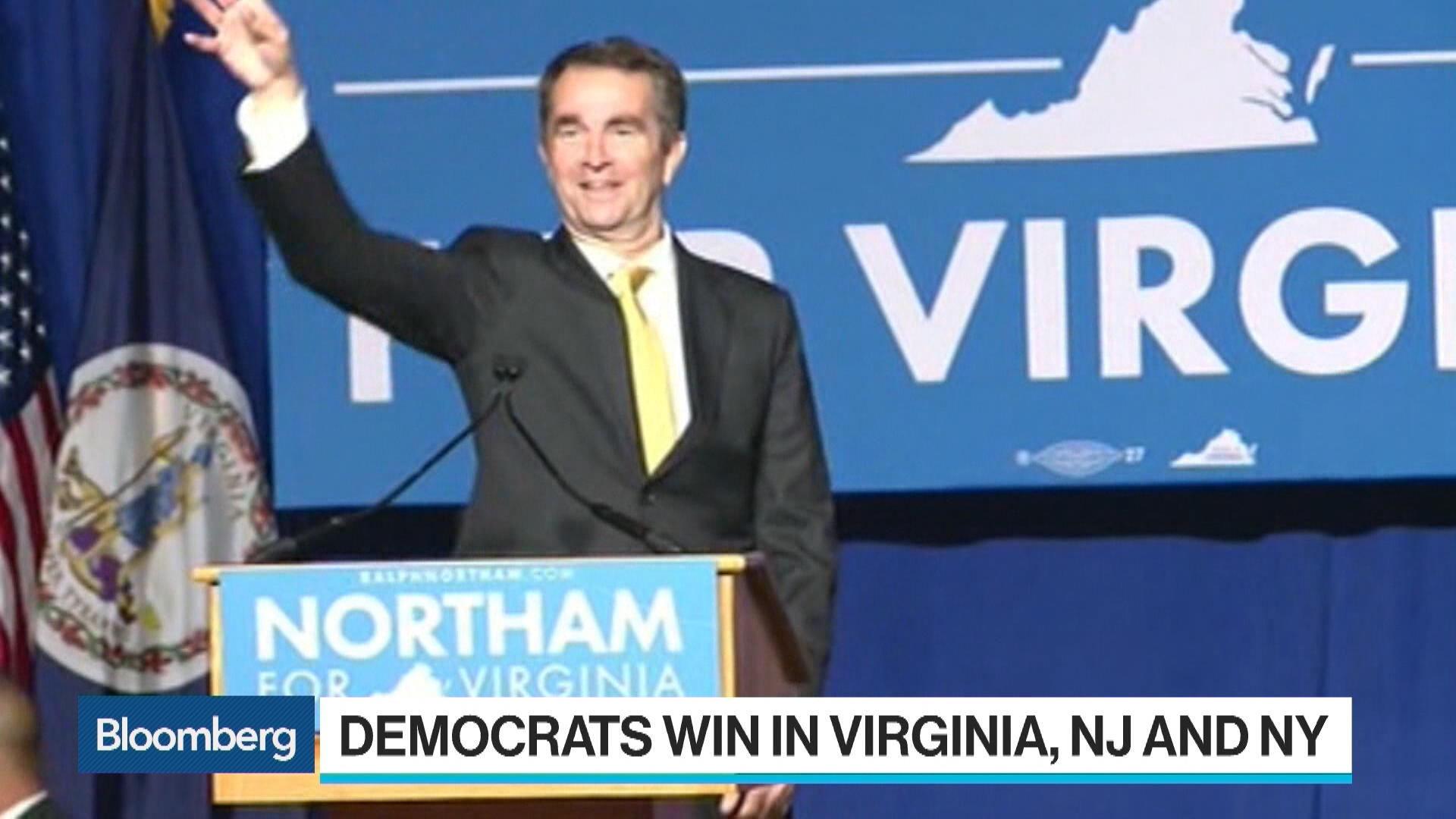 The only two governors' races in the U.S. this year ended in victory for Democrats, as voters turned away Republican candidates aligned with President Donald Trump and telegraphed a fight for his party's hold on Congress in 2018 midterm races.
New Jersey's election of Democrat Phil Murphy was never much in doubt, given the unpopularity of incumbent Republican Chris Christie. But the decisive win in Virginia of Democratic Lieutenant Governor Ralph Northam over former Republican National Committee Chairman Ed Gillespie serves as a barometer for Trump's potential impact on congressional elections next year in key states.
The Virginia race took on national implications in the closing weeks as polls narrowed and Gillespie channeled Trump in advertisements on wedge social issues like immigration and Confederate statues, while avoiding campaigning with the president in person.
It didn't work. Northam received 54 percent of the vote to 45 percent for Gillespie with 99 percent of precincts reporting, according to the Associated Press. The race turned largely on the strength of suburban voters who delivered a bigger win for Northam than the state gave Hillary Clinton in 2016. Democrats also won races for lieutenant governor and attorney general, while picking up several seats in the state's House of Delegates.
In New Jersey, Murphy defeated Republican Lieutenant Governor Kim Guadagno 55 percent to 43 percent to take over the seat held by Trump ally Christie, the most unpopular governor in modern state history.
U.S. Senator Cory Booker, a New Jersey Democrat, told Murphy supporters that Virginia and New Jersey had set the tone for 2018.
"Our two states have provided the United States of America with the very first definitive statewide rebuttal to the Trump politics of division," Booker said to cheers in Asbury Park.
Trump Distances
"President Trump wisely chose to stay thousands of miles away," Tim Kaine, the Virginia senator and 2016 Democratic vice presidential nominee, told Northam supporters at George Mason University. "The Trump style of division, of pitting people against each other, is not the Virginia way and it's not our nation's way."
Half a world away in Seoul, as Trump prepared for a speech to South Korea's National Assembly, he distanced himself from the Gillespie loss.
"Ed Gillespie worked hard but did not embrace me or what I stand for," Trump wrote in a Twitter post as he continued a tour of Asia, noting Republican wins earlier this year in special elections for the U.S. House. "With the economy doing record numbers, we will continue to win, even bigger than before!"

Trump, whose approval rating in Virginia hovers in the 30s, never campaigned in person for Gillespie. Instead, the president's support came mostly on Twitter as other Republicans from Mike Pence to Marco Rubio went to the commonwealth to campaign. In the waning moments of the race, Trump recorded a call to voters on Gillespie's behalf.
Gillespie, meanwhile, ran advertisements decrying NFL players who kneel in protest during the national anthem and warning of Latino gangs going unchecked in sanctuary cities. Gillespie opposed the removal of Confederate monuments in a state that served as the seat of the breakaway states more than 150 years before.
History Downballot
Some of those down-ballot wins will resonate far beyond Virginia. In Prince William County, a commuter train ride from D.C., Danica Roem will become the nation's first openly transgender state lawmaker. Just as notable, she ousted long-time Delegate Robert G. Marshall, who had sponsored bills about bathroom usage requirements and once boasted he was, according to the Washington Post, Virginia's "chief homophobe."
Chris Hurst, a former television anchor for WDBJ7 in Roanoke, left the station to campaign for delegate as a Democrat after his girlfriend, Alison Parker, and her cameraman were gunned down during a live broadcast in 2015. He, too, ousted a Republican incumbent.
Still, there's work to be done for Democrats, who hours before polls closed were fretting about whether a slim poll lead would turn into a slim defeat, as it did in the presidential race a year ago. Some progressive groups split with Northam late in the race over what they said were "gutless" concessions on banning sanctuary cities, while others questioned how a get-out-the-vote flyer was printed without the face of Justin Fairfax, Northam's lieutenant governor running mate and the only black candidate on the statewide Democratic ticket.
Democrats also have yet to translate any anti-Trump momentum into seats in Congress, having lost all but one special election for the U.S. House this year. The only victory was in a heavily-Democratic enclave of Los Angeles, while Republicans held onto key seats in Georgia and Montana against heavily-funded Democratic challengers. 
The latest of those Republican wins came in Utah, where Provo Mayor John Curtis easily won a special election to replace Jason Chaffetz in the U.S. House. Next up on the calendar is a Senate election in December in Alabama, one of the most conservative states in the nation.
Christie Era Ends
In New Jersey, Christie's second-in-command never caught in a state that in 2013 had re-elected Christie by 22 percentage points, only to sour on him over the George Washington Bridge scandal. The matter ended in a guilty plea for one aide and federal criminal convictions for two others. Though Christie has insisted he had nothing to do with the plot to exact political revenge with staged traffic jams, polls show most voters didn't believe him.
With Christie's approval at 15 percent in the latest Quinnipiac University poll, Guadagno took to telling voters that she wasn't so closely in step with him. In recent weeks she aligned herself with President Donald Trump on undocumented immigrants, saying that Murphy's advocating for their legal protection would give haven to violent criminals.
Murphy, in his victory speech in Asbury Park, told supporters that voters had stood up to Trump with a reminder that states can resist his policies.
"Tonight New Jersey sent an unmistakable message to the entire nation: We are better than this," he said. "Governors will have never mattered more."
— With assistance by Greg Sullivan, and Justin Sink
Before it's here, it's on the Bloomberg Terminal.
LEARN MORE