China Literature Soars in Hong Kong Debut After Tencent Spinoff
By and
Its first-day gain was the best among major IPOs in 2017

Company will convert book IPs into anime, films, games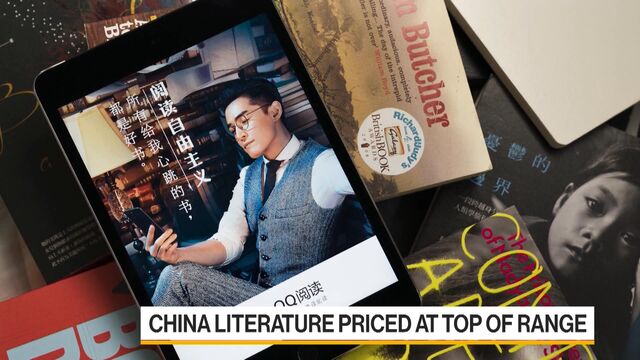 China Literature Ltd. surged 86 percent in its Hong Kong debut after Tencent's online books unit raised HK$8.3 billion ($1.1 billion) in the largest tech coming-out party for the city since 2007.
The stock finished Wednesday at HK$102.40, almost double its HK$55 initial public offering price and conferring a value of almost $12 billion on the debutante. The company, spun out from Tencent Holdings Ltd., notched the best first-day performance of any IPO that raised $500 million or more in 2017.
China Literature is the country's biggest publisher of e-books, offering a similar business model to Amazon.com Inc.'s Kindle Store. The Shanghai-based company intends to invest more on data to analyze user preferences, work with Tencent's WeChat and QQ messaging giants to make reading more sociable, and convert popular titles into anime, movies or games in collaboration with Tencent.
Its stellar first-day showing may now spur Tencent to consider floating other parts of its empire. China's second-largest company is already said to be weighing a spinoff of its music arm. Tencent's shares slid 1.4 percent.
"Demand is especially strong since Hong Kong is in a bull market," said Paul Pong, managing director at Pegasus Fund Managers Ltd. in Hong Kong. "And there are not many profitable tech companies, so there's a lot of upside."
Read more: IPO Fever Hits Hong Kong Market as 1-in-20 People Try to Buy
Morgan Stanley, Bank of America Corp., Credit Suisse Group AG, China International Capital Corp. and JPMorgan Chase & Co. were joint global coordinators of the offering.
China Literature had profit of 213.5 million yuan ($32 million) in the first half of this year, compared with a 2.4 million yuan loss for the same period in 2016, according to its prospectus. The company -- created through the merger of Tencent's online literature business with Carlyle Group LP-backed Cloudary Corp -- had 9.6 million works and 6.4 million writers as of June 30. Customers can pay for an entire book or buy a few chapters at a time to see if they want to keep reading.
China Is Reinventing Literature (Quite Profitably): Adam Minter
"We can study our users' social network and understand their preference and recommend to them what their friends like to read," Co-Chief Executive Officer Wu Wenhui said in an interview. "We already have compiled a great amount of user data, which will enable us to study what they like."
The company also wants to leverage its content into other forms of entertainment, such as movies, TV series and anime, as Tencent aspires to create a Marvel-like empire. Shenzhen-based Tencent became China's second-biggest technology company on the strength of its WeChat messaging app, which since has morphed into a portal for shopping, banking, gaming and consuming entertainment.
China Literature will select some content, and co-invest or co-produce movies or anime series, co-CEO Liang Xiaodong said. He added that his company is closely working with Tencent's film and video units.
"User demand for content is getting very strong, especially original material," Liang said in an interview with Bloomberg Television. "Our content can easily be converted into movies and games to maximize coverage."
China Literature attracted strong interest from retail investors, who placed orders for more than 600 times the stock initially available to them in the IPO, people with knowledge of the matter said earlier. The portion of the deal reserved for institutional money managers also was oversubscribed by several times, the people said.
Before it's here, it's on the Bloomberg Terminal.
LEARN MORE