Brexit Talks Resume With EU Wary of U.K. Political Risk
By , , and
Oliver Robbins has been in Brussels ahead of formal talks

EU envoys said to be wary of sending wrong signals to U.K.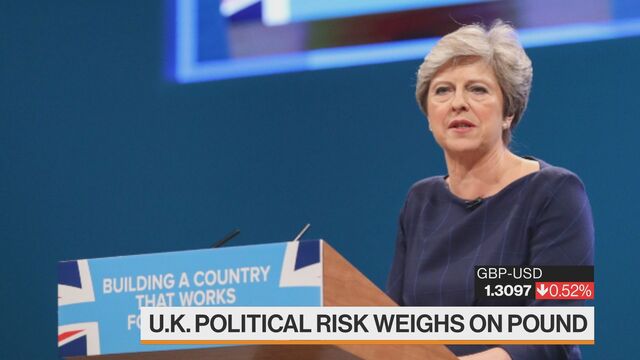 Brexit talks resumed Thursday with no indication that a breakthrough is in reach: the Europeans are taking a cautious approach even as both sides hope for an agreement by year-end.
European diplomats in Brussels are concerned about the U.K.'s political crisis, and are trying to avoid sending Britain overly encouraging signals about how talks are progressing, according to a person familiar with the situation. Countries including Germany asked negotiators on Wednesday not to rush into preparing documents for trade talks, to avoid creating the impression that negotiations are moving on, the person said.
While Irish Prime Minister Leo Varadkar is upbeat that a deal could be done by December, the time to make that happen is running short. Talks started on Thursday morning and a press briefing is scheduled for Friday.
To break the deadlock, the U.K. has to make an offer on the Brexit divorce bill that's good enough to satisfy EU leaders, who have the final say on whether talks can move on to the crucial issue of trade. The timing of the next summit in mid-December means that offer probably has to come by the end of this month, according to political risk analysts at Eurasia.
EU diplomats have begun work on two versions of draft summit conclusions for the December gathering -- one for the possibility of a breakthrough and another one for continuing stalemate. The Times reported on Thursday that leaders are also preparing for the possibility of May's downfall.
Ahead of the official start of negotiations, May's Brexit advisor Oliver Robbins has been in Brussels this week and speaking to the EU team in private, according to people familiar with the situation. Brexit Secretary David Davis has been touring European capitals to drum up good will.
While the EU doesn't expect a firm number from the British side on the bill, they do want more detail as to where the U.K. thinks it's on the hook for liabilities. 
Why is There a Bill at All? Quicktake Q&A
The European side reckons the U.K. owes about 60 billion euros ($70 billion). So far the U.K. has agreed to pay about a third of that and is going through the other demands "line by line," May says. Davis has hinted that he could go further, though it's a sensitive issue at home: voters were told departure from the bloc would bring financial dividends, not bills.
During Davis's European tour, there's been no indication that he has put anything new on the table. On Wednesday he met Polish Deputy Foreign Minister Konrad Szymanski, who said that if Britain offers a clearer picture of what it wants from the transition -- the arrangement Britain wants to put in place to smooth the exit -- that could help break the deadlock on the financial settlement.
More than year on from the Brexit referendum, and just 17 months before exit day, there's barely been progress toward a deal. The issue that was meant to be easy -- the rights of EU citizens in the U.K. and Brits in Europe -- is still to be sorted, even as both sides say advances have been made.
The veto-wielding European Parliament poured cold water even on that on Wednesday, saying "there are still major issues that have to be resolved."
Daunting Tasks
The U.K. hasn't set out a clear vision of what it wants from the future relationship, beyond saying it seeks a deep and special partnership. In recent weeks the British position on what it wants from the transition arrangement has become less clear. The EU side meanwhile has refused to budge, sticking to its demands that first the divorce must be settled, and only then can the future be discussed.
German government advisers on Wednesday raised the prospect of an extension to the negotiation process, saying talks would likely drag on beyond the two years envisaged in EU rules. A one-time extension in EU membership should be granted, the country's Council of Economic Experts said. While the prospect won't be welcomed by the U.K., it could feed into the debate on the transition agreement that Britain is keen to pin down.
May is struggling to hold her government together and to forge a Brexit policy that her divided cabinet, and the Parliament she controls by a slim margin, can back. Sex scandals continue to threaten her fragile administration, amid speculation she may not survive long enough to deliver Brexit.
Looking ahead to December, there's hope on both sides and a desire to move talks on to trade, according to a European official who asked not to be identified. A summit in October ended without concrete progress but with warm words from leaders including German Chancellor Angela Merkel that a breakthrough was possible by year-end if both sides made an effort.
"I am more optimistic than I was in the weeks before the October summit," Varadkar told his parliament in Dublin on Wednesday.
— With assistance by Tim Ross
Before it's here, it's on the Bloomberg Terminal.
LEARN MORE