Bipartisan Dodd-Frank Fix Could Benefit Banks Big and Small
By
Senate's Crapo in talks with Democrats on relief for lenders

Lawmaker says agreement may be reached as soon as this week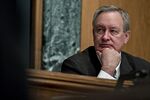 The top Republican on the Senate Banking Committee is getting closer to striking a deal on a bipartisan bill to ease financial rules that could have wins for banks both big and small.
Senator Mike Crapo of Idaho, the panel's chairman, is in talks with moderate Democrats including Jon Tester of Montana, Heidi Heitkamp of North Dakota and Joe Donnelly of Indiana on a plan for rolling back parts of the Dodd-Frank Act. A deal could come as soon as this week, Tester has said.  
Reducing the compliance burden for community banks has been identified as a top priority, but the lawmakers are also discussing ways to free bigger regional lenders from some of the strictest post-crisis regulations. Also on the table, lawmakers say, are tweaks to measures such as the Volcker Rule limits on banks' trading, though it's unclear what will make it into the final bill.
"We are negotiating, and my hope is to put out a bill soon," Crapo told reporters. "I want to move as expeditiously as possible as we can on it."
Crapo turned to the moderates on the Banking Committee after the collapse of talks with Senator Sherrod Brown of Ohio, the panel's top Democrat. The two had been negotiating for months before discussions broke down last week, and Brown is pessimistic about the prospects for compromise.
"You'll see when he introduces a bill the differences we have," Brown said in an interview. "They want to do too much to help the bigger banks."
Tax Reform
Getting any financial regulation legislation through the Senate will be difficult as lawmakers deal with the massive tax reform effort and other higher-profile issues. And even though there is general agreement on the need to reduce the burden on smaller banks, previous efforts failed to advance because of disagreements over where to draw the line.
Crapo's counterpart, House Financial Services Committee Chairman Jeb Hensarling, has advanced legislation that would make big changes to Dodd-Frank, like gutting the Consumer Financial Protection Bureau. But that bill, passed by the House in June, is unlikely to get enough support from Democrats to advance in the Senate.
One change Republicans are eager to make is boosting the threshold for labeling banks as too big to fail. Dodd-Frank dictated that all banks with more than $50 billion in assets be deemed systemically important, a status that subjects them to stricter oversight and higher compliance costs.
Republicans have tried for years to raise the threshold, arguing that the current level ropes in lenders that pose no threat to the broader financial system. Progressive Democrats, like Senator Elizabeth Warren of Massachusetts, aren't willing to budge on the issue.
Gary Cohn
National Economic Council Director Gary Cohn has said the threshold should be moved up to at least $200 billion. At that level, banks including Fifth Third Bancorp and Regions Financial Corp. would be off the hook, but firms like BB&T Corp., Capital One Financial Corp. and SunTrust Banks Inc. would not. Treasury Secretary Steven Mnuchin has said the threshold should be at least $250 billion or $300 billion.
"There's been a lot of numbers bounced around," Tester said. "And there probably will be a number in the end. In fact, I'm sure there will be a number in the end."
Crapo and other Republicans have pushed for a risk-based approach, favored by firms such as U.S. Bancorp and PNC Financial Services Group Inc., to determine which banks are systemically important. Heitkamp declined to say whether doing away with a number would be a deal-breaker for her. Tester said he's open to the idea.
Senators Claire McCaskill, a Missouri Democrat, and David Perdue, a Georgia Republican, are sponsoring a bill that would replace the $50 billion threshold with a risk-based approach considering a variety of factors in addition to asset size. A companion bill was passed recently by the House Financial Services Committee.
Volcker Changes
Tester also has said he would be willing to consider changes to the Volcker Rule, though it's not clear whether the final bill would touch the regulation so reviled on Wall Street.
The rule, named for former Fed Chairman Paul Volcker, restricts banks from making market bets with their own capital. Proposed changes include assigning one agency to implement it instead of the five now involved. Another revision being sought would exempt lenders with less than $10 billion in assets from having to comply.
The clock is ticking for senators who want to see legislation completed before the end of the year. Incorporating the plan in a omnibus spending bill is one route, but it's also time-sensitive. Attempting to pass a standalone bill is another option.
Crapo needs support from at least one Democrat to get a bill out of the committee and would have to get votes from at least eight non-Republicans to reach the 60 needed for full Senate passage in regular order.
'Primary Challenger'
"Getting to 60 is far easier after the spring primaries are over," Cowen & Co. analyst Jaret Seiberg said in a note. "That will free some Democrats to get on board without fear that a primary challenger will use the vote against them."
Tester, Heitkamp and Donnelly, all of whom are up for re-election next year in states President Donald Trump won, could tout their work with Republicans if they sign on.
"The best I can say is that I continue to work on it very aggressively," Crapo said in an interview last week. "And I hope in the near future to have some kind of an announcement as to what our progress is."
What that progress is and whether bipartisan efforts will work this time remain to be seen.
— With assistance by Elizabeth Dexheimer
Before it's here, it's on the Bloomberg Terminal.
LEARN MORE