Bank Stocks Stumble on Triple Threat of Taxes, Election and Yields
By and
KBW Bank Index's three-day slide is more than 3 percent

Flattening yield curve hurts interest income projections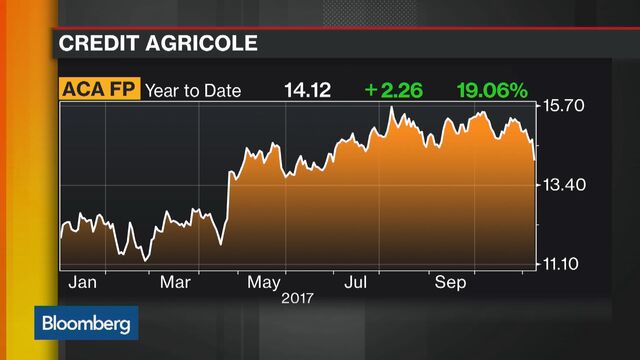 The bad news for bank shares keeps coming.
The KBW Bank Index headed for its worst week in a month Wednesday after Democratic victories in Virginia and elsewhere stoked concern that Republicans will have trouble passing corporate tax cuts. Even before the polls closed Tuesday, concern had been mounting among the bill's supporters that a House version of the plan would falter in the Senate.
And hanging the background is the flattest yield curve in 10 years, threatening to erode already weak interest income at the nation's largest lenders.
"Mayday, mayday," was the reaction from Henrietta Treyz in a note to investors. The managing partner at Veda Partners LLC joined other market strategists in sounding the alarm about a group that's trailing the broader market by four percentage points this year.

The KBW Bank Index slumped 0.9 percent as of 2:30 p.m. in New York, pushing its loss for the week to 3 percent. The group opened lower on news that the latest House proposals for tax cuts could swell the deficit to $1.57 trillion over 10 years -- an amount that could expose the proposal to a Democratic filibuster in the Senate to kill the bill altogether.
The "Virginia election 'bloodbath' may push Republicans to take a more populist approach on tax legislation, which could limit the scope of corporate tax changes," KBW's Brian Gardner wrote Wednesday. And if the gains for Democrats persist into the 2018 midterms, he said, the House could flip and pose longer-term problems for banks expecting a rollback of regulations under the current leadership.
Even if tax cuts move ahead, the narrowing spread between two-year and 10-year Treasury yields threatens profitability, Jim Paulsen, chief investment strategist at Leuthold Group LLC, said by phone.
"The biggest thing, which is a daily event, is bond yields," he said. "When the yields come down they lose outright just by having less margin on their deposit liabilities and the flattening of the curve squishes margins. Financials are either under-performing or outperforming almost everyday on that."

Sustained demand for long-dated bonds among liability-driven investors and asset purchasing programs from foreign central banks continue to cap U.S. yields while the Fed is expected to keep normalizing short-term rates, fostering a dynamic in the Treasury market that's been the bane of banks.

Banks aren't the only group of stocks hanging on the fate of tax cuts. U.S. small caps and other relatively high-taxed firms are lagging the S&P 500 so far this week.
"I see evidence of people kind of backing out of tax reform a little bit," Paulsen said. "You certainly see it showing up in small-cap stocks, which have been getting pummeled in recent days, and it's accelerated."
— With assistance by Felice Maranz
Before it's here, it's on the Bloomberg Terminal.
LEARN MORE