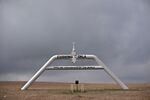 A mea culpa: This piece I wrote last week on the dislocation between benchmark U.S. and international oil prices missed something important.
While I emphasized the differences in speculative money flows to the Nymex West Texas Intermediate, or WTI, and Brent crude oil contracts, I didn't give the role of logistics the prominence it deserved. So here goes.
To recap, the spread between WTI and Brent crude prices began widening in late July and has recently blown out to about $6 or $7 a barrel:

Hurricane Harvey's disruptive impact in late August helped push that spread beyond $5. But it had been opening ahead of that and hasn't shown signs of closing since.
Besides Brent's international benchmark, Nymex WTI is suddenly trading at wide discounts to other benchmarks within the U.S., too:

Those premiums of roughly $5 to $6 for Louisiana Light Sweet and WTI delivered in Houston are big flags that something is up with the way oil is flowing within the U.S.
The Nymex WTI contract is settled physically at the pipeline and storage hub in Cushing, Oklahoma, which is hundreds of miles inland from the refining and export facilities along the Gulf Coast. The other  barrels, closer to the coast -- and, therefore, global markets -- are priced more in-line with Brent. Their premiums versus Nymex WTI jumped at the end of August as Hurricane Harvey's disruption kept barrels bottled up in Cushing.
But their continued strength and that other line on the chart above -- for barrels priced in North Dakota -- hint at other, more structural issues.
John Coleman, a senior analyst at Wood Mackenzie, points to the start-up of the Dakota Access pipeline in June. Dakota Access takes barrels from the Bakken down to Patoka, Illinois -- where they compete with barrels coming from Cushing. Better access to Midwestern refiners, as well as pipelines heading south from Patoka to ports on the Gulf Coast, helped close the Bakken discount to WTI and encouraged a bit more production in North Dakota:


Cushing is also being squeezed from the west, where the Permian basin -- the engine of U.S. oil-supply growth -- shows little sign of faltering. Output from there has risen by more than 550,000 barrels a day so far this year, according to the Energy Information Administration.
Even before Harvey struck, therefore, increased flows of oil from shale basins were helping to keep Cushing's tanks unusually full:

This localized glut has supressed WTI prices inland at Cushing, even as WTI at Houston sells for about $5 more per barrel. That is more than double the cost of piping oil from Cushing to the coast, a pretty sure sign of bottlenecks
A similar, though less pronounced, pricing mismatch affects Permian barrels priced at Midland, Texas, indicating production has outpaced pipeline capacity and created a glut there, too. Meanwhile, the recent surge in U.S. oil exports tells you that any barrel that can make it to the coast, and international pricing, is going there.
Relief is on the way in the form of new pipeline capacity providing an outlet for stranded barrels. Plains All American Pipeline LP's Diamond pipeline, taking up to 200,000 barrels a day from Cushing to Valero Energy Inc.'s refinery in Memphis, Tennessee, is due to start up within a month. Meanwhile, Enterprise Products Partners LP and Energy Transfer Partners LP have new pipelines coming in the next few months that should enable another 550,000 barrels a day of Permian output to reach coastal refineries and ports.
These, and other projects, should narrow the gap between WTI and Brent to a more normal level below $4 next year.
Whether this will help close the other gap I discussed in last week's column -- the high level of speculative positioning in Brent futures and the relative lack of it in Nymex WTI -- isn't as clear. It should, but some speculators might prefer to use other benchmarks closer to the international market, such as for WTI Houston.
As the links between U.S. and international prices are repaired, so an important conundrum in the oil market could reassert itself.
For the past couple of months, OPEC and its associates have scored a double: International prices have risen even as logistical issues blunt the reward for at least some U.S. shale producers. From OPEC's perspective, this combination of more cash for themselves but less encouragement at the margin for fracking, is the holy grail.
As that window closes, and WTI plays catch-up, U.S. producers should be on firmer footing. True, they are more attuned to returns rather than manic growth these days, at least according to what's being said on third-quarter earnings calls.
But the siren song of higher prices is tough to resist. If Brent succeeds in pulling WTI higher, then eventually that should mean more U.S. barrels pulling in the opposite direction.
Before it's here, it's on the Bloomberg Terminal.
LEARN MORE