Trump Casts a Shadow Over Virginia's Gubernatorial Election
By
Former RNC chair pulls close to Northam in governor's race

Democrats expected to pick up Christie's job in New Jersey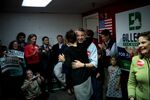 How should Republicans campaign in places that aren't particularly Trump-friendly at a time when Donald Trump looms over U.S. politics? It's a question that will reverberate across the 2018 midterm elections.

In Virginia, where voters will elect a governor today, Ed Gillespie thinks he's found the answer.
A former head of the Republican National Committee and son of an Irish immigrant, Gillespie a decade ago spoke against alienating Hispanic voters. In this year's campaign though, he is channeling Trump with ads condemning NFL players who kneel in protest during the national anthem and warning about violent Latino gangs flourishing in sanctuary cities.
"If there is a candidate out there who can figure out how to run in this age of Trump, it's Ed Gillespie," said Jennifer Duffy, who tracks gubernatorial races and politics for the nonpartisan Cook Political Report. "I'm sure he's given this thought from the moment they declared Trump the winner."
In a state Hillary Clinton barely won last year, Gillespie is narrowly trailing Democratic Lieutenant Governor Ralph Northam, according to an average of recent public polls compiled by RealClearPolitics. The key for the Republican is to turn out Trump's base voters, especially in the Appalachian southwest, without alienating centrist Republican and swing voters in the D.C. suburbs of Northern Virginia. He may be succeeding: In a recent Roanoke College Poll that showed the race tied at 47 percent, Trump's approval stood at just 36 percent.
Gillespie spokesman David Abrams declined to characterize Trump's influence in the race, citing instead the candidate's "tireless work" on economic development, taxes and schools.
While the president himself hasn't campaigned in Virginia, Gillespie has drawn the support of Vice President Mike Pence and Republican senators Marco Rubio and Tom Cotton. Former President George W. Bush has acted as a surrogate, headlining a fundraiser for Gillespie last month.

In the only other governor's race being contested Tuesday, Republican Kim Guadagno, New Jersey's first-ever lieutenant governor, also has made a late shift toward Trump, but with little apparent success. Her more considerable roadblock is an electorate that hasn't put a Republican in the U.S. Senate since 1972 and has backed Democrats for president since 1992.
Whatever the result in New Jersey, Virginia's gubernatorial and down-ballot legislative contests may prove a better national barometer heading into the 2018 elections, Duffy said.

There, Northam ads have accused Gillespie of having Trump-inspired plans to cut public-school funding, roll back water and air protections, and gut health care.
"Do you all remember how you felt when you woke up on November the 9th of 2016?" Northam asked a crowd in Ashburn, referring to the day after the presidential election, according to CBS News. "We cannot take any chances and wake up like that again."
Nearly half of likely Virginia voters say their ballot will be a message to Trump and the Republican-controlled Congress, according to a Christopher Newport University poll. So far, with the president's approval rate in both states in the 30s, the so-called "Trump effect" has hit Republicans hardest, the survey found.

The president's involvement in the Virginia race has been minimal, with tweets about how Gillespie would be "strong on crime" and "might even save our great statues/heritage!"
That continued Tuesday morning when Trump tweeted about the race from South Korea in the midst of his trip through Asia: ".@EdWGillespie will totally turn around the high crime and poor economic performance of VA. MS-13 and crime will be gone. Vote today, ASAP!"
That hasn't stopped Gillespie's borrowing from Trump's attack strategy. He's knocked Northam as soft on crime, run ads decrying sanctuary cities and implied Democratic immigration policies would allow the violent gang MS-13 to fester. A mailed ad channels Trump's anger over some National Football League players' protests of police brutality during the national anthem: "You'd never take a knee ... so take a stand on Election Day" by voting for Gillespie.

Richmond, Virginia's capital and the former seat of the Confederacy, reveres its statues of the South's long-dead icons. In the wake of a white supremacist rally at the University of Virginia in Charlottesville, Northam said he would remove Confederate monuments. His opponent turned that into a negative.
"I'm for keeping them up, and he's for taking them down, and that's a big difference in November," Gillespie says of the statues.
Gillespie's appeal is bolstered by never having served in Congress and lacking a lengthy record, according to Duffy, of the Cook Political Report. That said, one apparent plus for him -- as a campaign strategist and former Republican National Committee head -- may not play in some Republican circles after Trump rallied to "drain the swamp" of Washington insiders.

In New Jersey, Guadagno, the Republican running for governor, also is trying to portray herself as an outsider, telling crowds that she didn't always agree with Chris Christie even after almost eight years as his second-in-command. To little effect, she's also tried a shift toward Trump, linking Democrat Phil Murphy's calls to create a "sanctuary state" with the 2007 slayings of three college students and the shooting of their companion by an undocumented immigrant.
"Make no mistake, Murphy will have the backs of deranged murderers," an announcer said in one 30-second spot. "Murphy doesn't have our backs; he has theirs. Phil Murphy -- too dangerous for New Jersey."
Still, Murphy held a commanding lead of 53 percent to 39 percent in a Nov. 1 poll from Monmouth University in West Long Branch.
By contrast, Gillespie began the campaign attacking his opponent as soft on crime. And as far back as September he started shifting to a more Trump-like tone as it became clear the election would be all about "the base" for both parties. Guadagno, for her part, shifted to a focus on sanctuary cities only after her initial calls to lower property taxes landed with a thud.
"While it was out of the blue for Guadagno, it was more of an evolution with Gillespie," said Patrick Murray, director of the Monmouth University Polling Center. "So the groundwork was already laid for that, and Virginia is a state where there's a significant number of conservative voters."

While a Democratic victory seems certain in New Jersey, where Murphy has support from centrist and progressive Democrats, Northam has had a tougher time. On Nov. 2, Democracy For America, the liberal political action committee founded by former Vermont Governor Howard Dean, said it would stop supporting Northam for a "gutless" promise to ban sanctuary status for Virginia municipalities.

The victory margin in that race may prove as little as 3 percentage points, according to Duffy, the political tracker.
"I don't think anybody is sitting easy," Duffy said. "Virginia is still a purple state, so I don't know that anybody was under any delusions that they were going to win this by all that much."
— With assistance by Dave Merrill, and Elise Young
Before it's here, it's on the Bloomberg Terminal.
LEARN MORE