Trump Undercuts His Advisers Again With Saudi Tweets
By
Tuesday tweet backed arrests of princes and ex-officials

State Department hadn't yet finished review of the incident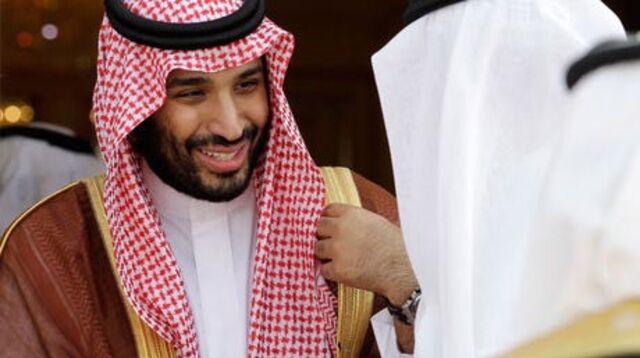 President Donald Trump again showed how quickly his tweets can outrun U.S. foreign policy planning, after he backed Saudi Arabia's king and crown prince over the arrests of dozens of officials before the State Department had completed its review of the moves.
While Trump had talked with Secretary of State Rex Tillerson about Saudi Arabia as they toured Tokyo together Nov. 5 and 6, there was no formal consultation before he tweeted early Tuesday that King Salman and Crown Prince Mohammed Bin Salman "know exactly what they are doing."
A second tweet said "some of those they are harshly treating have been 'milking' their country for years!"
The tweets were only the latest time Trump has set U.S. foreign policy in 140 characters. It effectively gave the crown prince the full weight of the U.S. backing despite serious questions remaining about Saudi Arabia's commitment to the rule of law and its ability to guarantee financial transactions.
The crackdown expanded Tuesday as banks in the kingdom were told to freeze the accounts of dozens of individuals who aren't under arrest and lenders were sent a list of hundreds of names and told to freeze accounts linked to them, according to people with knowledge of the matter who asked not to be identified because the information is private.
Eyeing the Throne
"Having the United States in many ways supporting a position that is seen as quite controversial can be problematic for the region," Raihan Ismail, an associate lecturer at the Centre for Arab and Islamic Studies at the Australian National University in Canberra, said by phone. "Regional instability will continue to spook foreign investors. The Trump administration is seen as erratic."
Trump was responding to King Salman's order, announced on Nov. 4, to detain 11 princes, four ministers and dozens of former ministers and businessmen, including Prince Alwaleed bin Talal, one of the world's richest men, as part of an anti-corruption drive led by the crown prince. The move reinforced speculation that he was clearing any remaining obstacles to his son Crown Prince Mohammed bin Salman's accession to the throne.
Trump's tweeting once again threatens to roil a complex international situation and one of the U.S.'s most critical relationships, and may embolden the crown prince at a time when some administration officials fear he is moving too far too fast.
Until Trump's tweet, the administration had largely withheld comment, with State Department spokespeople referring reporters to the Saudi government. With Tillerson and the rest of Trump's national security team with him on the Asia tour, there has been little time to hammer out a response.
That slow reaction reflects the complexity of recent developments in Saudi Arabia and the danger that comes with trying to interpret them.
For example, the U.S. is largely pleased with much of what the young crown prince has pushed for, such as his desire to move away from radical Islam, the move to allow women to drive and his Vision 2030 reform plan. At the same time, the administration is disquieted by other policies, such as the continued military campaign in Yemen, capped by the decision Nov. 6 to close Yemeni land, sea and air crossings to all but aid and rescue teams.
The Trump administration is also running out of patience with Saudi Arabia over the boycott that it's led against the tiny Persian Gulf state of Qatar, also a U.S. ally. That has pushed Qatar closer into the arms of U.S. and Saudi rival Iran and is seen as inimical to U.S. interests.
The Qatar crisis was another example of Trump getting out ahead of his foreign policy advisers. After Tillerson took a moderate approach, declining to take sides, Trump praised the Saudis for cracking down on terror financing.
But State Department officials have said Tillerson persuaded Trump to come around to his position that the crisis in Qatar had gone on long enough and it was time for the Saudi-led group to ease its blockade.
Policy Discrepancy
Yet another case is North Korea. Tillerson frequently says that lines of communication remain open and the U.S. would be willing to talk to Kim Jong Un's regime. Yet Trump has tweeted repeatedly that talks would be useless.
Some outside experts were skeptical though that Trump's tweet, for all the confusion it might cause, would really shape policy. James Dorsey, who studies Saudi Arabia as a senior fellow at Singapore's S. Rajaratnam School of International Studies, cited past cases such as Qatar where Tillerson was allowed to pursue a different policy.
"There is repeatedly a discrepancy between his tweets on issues such as Saudi Arabia, North Korea and Qatar and the policies he allows his secretaries of defense and state to pursue," Dorsey said. "Trump's tweet certainly would have been welcomed by Mohammed bin Salman, but it remains to be seen what it means in practical terms and policy."
"It strikes me that the past record shows that Trump's tweets do not necessarily set policy," he said.
— With assistance by Justin Sink, and David Tweed
Before it's here, it's on the Bloomberg Terminal.
LEARN MORE