climate-changed
Now Even Syria Is Joining the Paris Climate Agreement
Eric Roston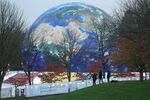 Syria told diplomats gathered in Bonn this week for annual United Nations climate negotiations that it will sign the Paris Agreement, making the U.S. the sole outlier.
Nearly 200 countries pledged in the French capital in December 2015 to pursue national policies that together would avert dangerous climate change by keeping warming "well below 2 degrees Celsius." The terms of the agreement would allow the U.S. to leave the pact in 2020.
Forty-nine countries are thought already to have seen a peak in their greenhouse gas emissions, according to the World Resources Institute. That said, peaking doesn't mean safety. The window for nations to cut emissions below dangerous levels is closing, and, at current rates, may be shut within 15 to 20 years.
President Donald Trump's June 1 decision to withdraw from the Paris Agreement may have inadvertently strengthened all other nations' resolve, according to Glen Peters, research director of the Center for International Climate Research in Oslo.
"This is one side benefit of the Trump thing. It plays a role in galvanizing the remaining 200 or so countries," Peters said. "So he may actually achieve the opposite and strengthen the Paris Agreement."
Before it's here, it's on the Bloomberg Terminal.
LEARN MORE