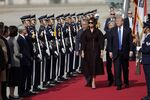 Donald Trump's trip to South Korea on Nov. 7 could prove awkward and downright contentious at times, as the president has frequently complained about America's trade relations with the Asian country.
He blames the 2012 free-trade agreement between the two for hurting American companies and workers, and has threatened to withdraw if the countries can't rework something that's better for the U.S. South Korea has agreed to renegotiate the pact, which is popularly known as Korus, though no timeframe or specific objectives have been set for talks.
Here are three charts that show why Korus has drawn Trump's ire, and another three that suggest there will be no easy solution.
1. America's trade deficit has grown under Korus
If you judge Korus using Trump's favorite gauge for free-trade deals, the trade balance, it has failed miserably. America's trade gap with South Korea has more than tripled since the pact took effect amid nearly stagnant exports to the Asian nation. While defenders of the deal say that reflects unrelated factors such as South Korea's decreased appetite for global imports, the argument is unlikely to sway the White House.

2. American manufacturers have taken a hit
Americans are snatching up South Korean cars and televisions at a healthy clip, which doesn't bode well for U.S. manufacturers. In fact, industries that contribute the most to America's trade deficit with the country such as automakers, electronics companies and steel producers employ the kind of blue-collar workers who supported Trump's campaign in droves.

3. South Korea's currency has raised questions
While Trump on the campaign trail famously accused Beijing of gaming the yuan to promote Chinese exports, it's a lesser-known fact that the Treasury Department has long kept South Korea on its "monitoring list" of potential currency manipulators. The won has depreciated more than many of its Asian peers in recent decades, falling almost 20 percent against the dollar in the past 10 years.
The White House during Korus talks may push Seoul for assurances it won't encourage the won to fall further, which could set the stage for tough negotiations. After all, South Korea denies that it manipulates its currency, and its policy makers will be reluctant to put any kind of monetary restraint on the central bank or Ministry of Strategy and Finance.

4. South Korea has a lot of leverage 
America arguably has the most to lose if trade talks break down and the pact dissolves, as the Asian country has higher tariffs under World Trade Organization rules than the U.S. To make matters worse for American exporters, Seoul also has far more free-trade agreements than the U.S., which means for example it could import beef from Australia where it has a pact in place rather than America if Korus goes away.

5. Trump may have little to gain by pushing a key ally
South Korea is only the U.S.'s sixth-largest trading partner, and America's trade gap with the Asian nation pales in comparison to its imbalance with China, Germany, Mexico and Japan. And considering South Korea's geopolitical importance to the U.S. as an ally against North Korea, the Trump administration may want to weigh the strategic costs and benefits of pushing Seoul too hard on trade.

6. Trump supporters have a lot to lose
Many American states that trade extensively with South Korea supported Trump in the 2016 election, meaning he may be reluctant to upend a deal that reduces tariffs for their exports to the Asian nation. In fact, four of the five states that depend most heavily on sales to South Korea helped usher him into the White House.

— With assistance by Andrew Mayeda, and Jiyeun Lee
Quotes from this Article
Before it's here, it's on the Bloomberg Terminal.
LEARN MORE