Singapore's Fintech Strategy Is Evolving, Central Bank Chief Says
By , , and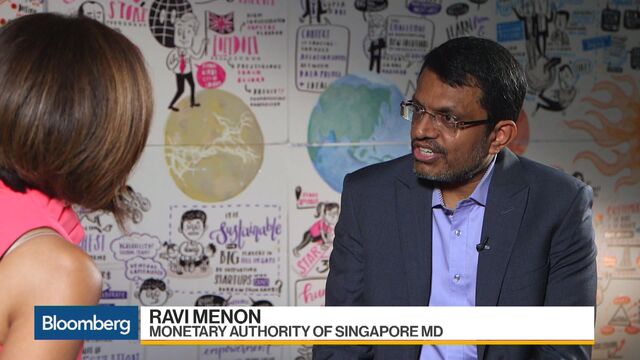 Singapore's vision and strategy for developing financial technology is evolving with rapid technological and industry changes, Monetary Authority of Singapore chief Ravi Menon said, as the regulator prepares for its second FinTech Festival next week.
"What we know now is different from what we knew a year ago" when the MAS held the inaugural festival, Menon told Bloomberg News in an October interview. "So you will see an evolution in our fintech thinking, be it on regulation, be it on data analytics and some of the things that we are doing."
The financial regulator has been creating new fintech positions within its organization in recent years, as it tries to build its ability to adapt quickly and cement Singapore's status as a global financial hub. Among the latest appointments: Chief Cyber Security Officer Tan Yeow Seng and Chief Data Officer David Roi Hardoon.
"Movements in technology itself, and adoption, changes in industry structure, all of that is moving pretty much as quickly as we had thought and in some instances even faster than we had thought a year or two ago," Menon said. "So obviously that will lead to continued adjustment and updating of our approaches."
The central bank chief said he'll give an update on the regulator's latest perspective on fintech at the festival next week.
"We do want to give an update of what we are doing on the fintech agenda," Menon said. "With the benefit of experience, we can give a more detailed update on where we are -- maybe be a bit clearer about the strategies and the vision. But this is really a work in progress. The strategies themselves are evolving -- it is not cast in stone."
— With assistance by Nasreen Seria
Before it's here, it's on the Bloomberg Terminal.
LEARN MORE