Richard Gordon, Who Flew to Moon With Apollo 12, Dies at 88
By
Naval aviator was one of only 24 astronauts to fly to the moon

After retiring, he was an executive with New Orleans Saints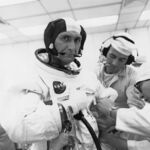 Richard Gordon Jr., the Apollo 12 astronaut who orbited the moon as command-module pilot during NASA's second manned moon-landing mission, has died. He was 88.
He died Monday at his home in California, according to the Astronaut Scholarship Foundation's website. No cause was given.
The former Navy pilot joined Charles Conrad and Alan Bean on their 10-day journey in space in November 1969. While his colleagues traversed the moon's surface, Gordon remained in the "Yankee Clipper" command module, where he took snapshots of potential landing sites for future missions until the "Intrepid" lunar module returned for docking.
The flight took place four months after Neil Armstrong became the first man to walk on the moon while Michael Collins maintained his lonely vigil in the Apollo 11 command module. Armstrong died in 2012.
The Apollo 12 mission, unlike its predecessor, marked the first manned moon landing to touch down in a designated spot, in the Ocean of Storms, near the Surveyor 3 probe that had been sent two years earlier to study the moon. Conrad and Bean remain the only humans to have visited a probe on another heavenly body. The two moon walkers also left instruments to conduct long-term scientific experiments run by a compact nuclear-power generator station. Conrad died in 1999.
Moon Walk
Gordon voiced few initial regrets at not having walked on the moon during the Apollo 12 flight. He anticipated another chance in NASA's rotation cycle as the backup commander on Apollo 15 or as the commander on Apollo 18, a mission that never took place because the program ended after the Apollo 17 moon landing in 1972. Only 12 of the 24 astronauts who went to the moon walked on the lunar surface.
"It didn't bother me, I accepted the assignment and I was very lucky to have the assignment as command-module pilot," Gordon said in an interview posted on his website. "But I assumed that I would have another opportunity to go back and walk on the lunar surface."
Though he never walked on the moon, Gordon had already "walked" in space before the Apollo 12 flight. As pilot on the three-day Gemini 11 mission in 1966, he twice left the spacecraft -- also commanded by Conrad -- a feat that assisted future astronauts learning to deal with weightlessness. Gemini 11, a preparatory flight that paved the way for the Apollo missions, also set an altitude record of 850 miles and achieved a rendezvous with the Agena satellite before completing the first fully automatic controlled re-entry, according to NASA's website.
Aviation Training
Richard Francis Gordon Jr. was born Oct. 5, 1929, in Seattle. He earned a Bachelor of Science degree in chemistry from the University of Washington in Seattle in 1951.
Gordon became a naval aviator two years later and was assigned to an fighter squadron at the Naval Air Station at Jacksonville, Florida, according to his NASA biography. He then worked as a flight-test pilot and later became a flight instructor at the naval air station in Miramar, California.

In October 1963, Gordon was chosen among the third group of astronauts and became a backup pilot for the Gemini 8 mission. He was later selected as backup command pilot for Apollo 9 and Apollo 15.
'Stark Terror'
"It's just like the old fighter pilot's life" he was quoted as saying in the 1970 book "First on the Moon," written by Armstrong, Collins and Edwin "Buzz" Aldrin Jr., the three crew members of Apollo 11. "Long periods of boredom punctuated by moments of stark terror."
After retiring from NASA and the U.S. Navy in 1972, Gordon was an executive with the National Football League's New Orleans Saints team and a general manager at Energy Developers Ltd., part of a joint venture to develop a chemical explosive for the oil and gas industry. He was also president of Astro Sciences Corp. and a technical adviser on the 1985 CBS mini-series "Space," based on James A. Michener's novel of the same name.
Gordon's wife, Linda, died in September. His first marriage, to the former Barbara Field, ended in divorce, and she died in May 2014. They had six children: daughters Carleen and Diane; and sons Richard, Lawrence, Thomas and James, who died in 1982.
Before it's here, it's on the Bloomberg Terminal.
LEARN MORE