RenTech Founder Urged Bob Mercer to Step Down to Improve Company Morale
By and
Simons is said to have negotiated Mercer resignation as co-CEO

Founder was also concerned about Mercer hurting recruitment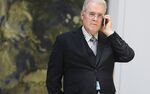 Jim Simons, the founder of Renaissance Technologies, urged Robert Mercer to step down from his role as co-chief executive officer over concerns that his backing of Breitbart News was hurting morale at the world's most profitable hedge fund, according to people familiar with the matter.
In recent months, Mercer's personal political projects dragged the secretive firm into the national spotlight. Mercer and his daughter, Rebekah, are prominent Republican donors and patrons of Stephen Bannon, chairman of Breitbart News, a website that backs the nationalist movement that helped elect President Donald Trump.
Simons, who is a major donor to Democratic causes, negotiated Mercer's move from top executive to researcher at the computer-driven firm over the past three months, one of the people said. Mercer's role will change on Jan. 1.
"I appreciated Bob's willingness to take this step," Simons said Monday night while attending a fundraiser for the New York Public Library.
"I had spoken to him a while back and suggested the possibility of taking this step, but in no way pushed him to do so," he said. "Whatever his political views, Bob has been an excellent contributor to the firm, and I am pleased he will be able to make such contributions in the future."
Mercer didn't immediately return a request for comment.
Mercer had become a lightning rod for activists. One group had begun targeting Renaissance Technologies' investors to encourage them to fire the money manager.
Simons was less concerned about an investor revolt than he was about employee morale and recruitment, according to one of the people. The firm received a net $1 billion in inflows this month.
In a memo sent last week to employees to announce his resignation as co-CEO and member of the board, Mercer said he sold his stake in Breitbart News to his daughters. He also said that he was "mistaken to have supported" Milo Yiannopoulos, a former Breitbart writer, and was severing ties with him because statements by Yiannopoulos have caused "pain and divisiveness."
While Simons has never said anything publicly about Mercer's political views, he has expressed his own opinions about Trump. At a speech in New York City in late October, Simons said "I think it's basically terrible that we have a president remotely like our current president. We've had some doozies but never of that caliber."
Before it's here, it's on the Bloomberg Terminal.
LEARN MORE