Ousted Catalan Leader Seeks Election Alliance as Deadline Nears
By
Puigdemont says entire goverment in prison or in exile

Accuses Spain of violating human rights, urges EU to act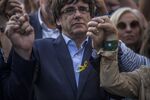 Ousted Catalan President Carles Puigdemont called on separatist groups to forge a last-minute alliance for next month's snap regional election to maximize the chances of another parliament that supports independence from Spain.
On the final day for parties to register their candidacies, Puigdemont urged pro-independence groups to join forces for the Dec. 21 election in a radio interview from his self-imposed exile somewhere in Belgium.
"Ideally, we should have a single list that includes all the government and those who defend democracy," Puigdemont said Tuesday, without disclosing his exact location. "We have no alternative but to go together -- there are people in prison."
Catalonia's disparate separatist group have been trying to patch up their differences after a divisive declaration of independence last month with Puigdemont and four former members of his government holed up Belgium after Spain demanded their arrest.
Read more about the key figures shaping Spain's future
The National Court in Madrid has already jailed eight former officials including Vice President Oriol Junqueras, as well as the leaders of two largest pro-independence campaign groups. They are facing potential charges including rebellion, sedition and misuse of public funds over last month's illegal referendum and could face as much as 30 years in prison if convicted.
"Europe cannot have an entire government in prison or in exile,´´ Puigemont said, imploring the European Union to intervene on behalf of his cause.
Puigdemont's Problems
EU officials have repeatedly refused to be drawn into the separatists' dispute with Madrid, with commission spokeswoman Annika Breidthardt saying last week that it was a matter for the Spanish courts.
Carlos Lesmes, head of Spain´s Supreme Court, on Tuesday dismissed Puigdemont´s pleas to Europe as "pure propaganda" and a "strategy" to impede his extradition to Spain. He said National Court magistrate Carmen Lamela, who issued the international warrant for the Catalan leader's arrest, is an "excellent judge" who has acted completely impartially and according to the law.
Puigdemont, who formerly said he would quit politics after the illegal referendum held on Oct. 1, now wants to run again. But his PDeCat party is losing votes to pro-independence rival ERC and a poll published by Barcelona-based newspaper La Vanguardia on Saturday showed that the Catalan secessionist bloc would win elections but would not be sure a of a clear majority in the regional assembly.
While the separatist parties have a common goal, they have not yet agreed on a way of achieving it. El Pais reported that Esquerra Republicana, the biggest separatist party, would only accept a single platform if it also includes the Catalunya en Comu party of Barcelona Mayor Ada Colau. Her group favors an alliance with the Catalan arm of the Podemos, a plan endorsed by more than 70 percent of Podemos members in the region.
Political parties in Catalonia face a deadline midnight Tuesday to register their candidacies with the regional election commission. Still, groups have until Nov. 17 to submit the lists of individual candidates running on their platforms, offering them a degree of wiggle room.
— With assistance by Esteban Duarte, and Maria Tadeo
Before it's here, it's on the Bloomberg Terminal.
LEARN MORE