Maduro Picks Food Over Bondholders as Venezuela Goes Hungry
By
He stalls a fiscal reckoning, freeing up a scant $9.7 billion

President gambles on voting from the stomach, if not the heart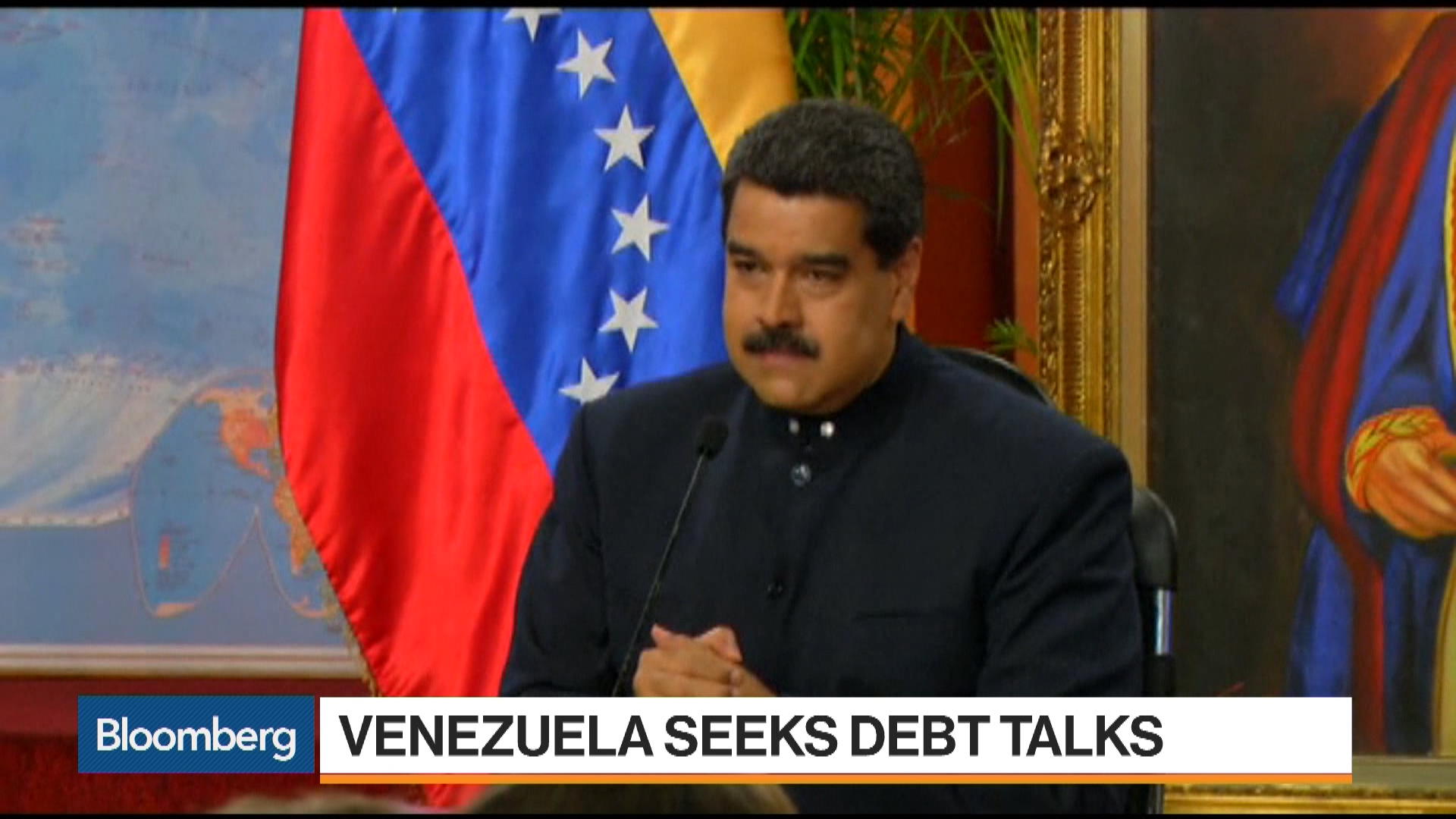 The box arrives at Pedro Key's door once a month bearing rice, pasta, cooking oil and beans meant to ensure the future of Venezuelan President Nicolas Maduro.
"If it wasn't for the government, we would starve," the 64-year-old retired blacksmith said one recent afternoon after receiving the subsidized groceries, for which he pays just pennies. "If the opposition had power, they'd take away what little we have."

With foreign reserves at a 15-year low after years of ruinous economic stewardship, Maduro is caught between satisfying creditors and voters like Key, who struggles to afford basics like beef, chicken and milk. The deliveries -- known as CLAPs, for their Spanish abbreviation -- have become so crucial that when they fail to arrive, violent protests erupt. When Maduro said last week that he would renegotiate the nation's crushing $140 billion-plus debt, he chose butter over bonds.
Obtaining fresh financing is a tall order, given the authoritarian government's increasingly toxic reputation and U.S. sanctions that prohibit Americans from receiving new bonds as part of a restructuring. But rather than simply declaring default, Maduro has summoned creditors to Caracas on Nov. 13 to discuss new terms. By staving off a final reckoning, the nation can keep control of oil-producing assets, use its $9.7 billion in reserves to purchase goods from abroad -- and keep food and other social aid flowing.
"This is much more of a political play than a financial one,'' said Jose Guerra, an opposition lawmaker who heads the National Assembly's Finance Commission. "They need some sort of relief, cash flow. They have no other way to finance imports.''
Read more: Why Venezuela's Sliding Toward Dictatorship, Default: QuickTake
Since the socialists took power in 1999, leaders counted on soaring oil prices to ensure that bondholders got their due. But reforms to cope with the dramatic drop in the price of crude -- the lifeblood of the Venezuelan economy -- are long overdue, and economists caution that the government can't cut spending further.
According to the Caracas consultancy Datanalisis, imports, including everything from food staples to car parts, electronics and medicines, have dropped to an estimated $15 billion this year from $66 billion at the height of the oil boom in 2012.
Maduro has endured withering criticism for paying creditors before buying food. The crunch has left many literally tightening their belts, as Venezuelans struggle to afford staples or skip meals entirely. A study found that adults on average lost 19 pounds last year due to shortages.
Starving Children
Across the capital, Caracas, the most desperate tear open trash bags and trail garbage trucks as they load restaurant waste. Unattended children panhandling outside posh restaurants and lunch spots have become common.
Amid such privation, the socialists have assured Venezuelans that hardships aren't the product of poor policy, but a capitalist assault by business owners and political foes. Through programs like the CLAPs, or Local Committees for Supply and Production, Maduro has tried to hold sway over Venezuela's urban poor and countryside -- long considered the bedrock of the socialists' support.
Rather than sending scarce subsidized goods to supermarkets or state food stores, the government since last year has supplied food to loyal neighborhood groups, which distributes it directly to their neighbors in an attempt to head off reselling and long lines.
"We're the first lines in combating the economic war," said Oralys Ramirez, a 49-year-old CLAP activist in Petare, a sprawling Caracas slum. "Maduro directs, and we comply."
Ramirez said that more than 500 families in her sector of Petare receive brown boxes of groceries at least once a month, regardless of political affiliation.
Hungry Electorate
As Maduro and his allies promise to improve shaky services and increase deliveries, critics say the program only extorts a hungry electorate.

"It's simply blackmail," fumed Noramia Pedraza, 48, a Petare vegetable seller. "Many here simply vote out of fear they'll lose their box."
Maduro is doing his best to keep them happy. The government says it shelled out almost $72 billion to pay principal and interest on bonds and loans since Maduro took office four years ago, but after making a final payment last week, the president suggested such funds would be better spent in social programs.
"It could have been spent in schools, clinics, housing, a prosperous economy,'' he said.
Luis Vicente Leon, head of Datanalisis, said that whether or not bondholders turn up for the meeting, the government will lay blame on the U.S., which Maduro has described as indulging in "financial persecution."
"In the end, what the government is saying is, 'I could pay, but I can't because it's your fault,''' said Leon.
Coming Through
The blame-the-gringos play may be the socialists' best bet ahead of elections. While Maduro's approval rating has hovered around 20 percent most of this year, his party almost swept opponents in regional elections last month, taking 18 of 23 gubernatorial races. The regime also faced widespread charges that voting was rigged.
On Tuesday, the U.S. State Department said the socialists were trampling on basic rights to "close democratic space" and "criminalize dissent."
With the opposition still reeling, the socialists are now looking to maintain their momentum in municipal and presidential votes, which analysts say could happen as soon first half of 2018. Alejandro Velasco, a professor of Latin American studies at New York University, said the government has to show citizens it can deliver.
"The focus goes onto the sectors that actually support it at a time when the government has very little economic leeway,'' he said.
While openly voicing her dismay about Maduro's stewardship of the economy, many in Petare like Romina Oporte, a 33-year-old grade school teacher voted for the socialist gubernatorial candidate hoping to ease her daily struggle.

"All my life I voted for the right, but I'm tired of clashes, tired of the governor not having any resources," she said. "The government is at least offering something," she said pointing to a state-supplied box of groceries that recently arrived at her home.
"Obviously, this is not a long-term solution to our problems, but it's something."
— With assistance by Ben Bartenstein
Before it's here, it's on the Bloomberg Terminal.
LEARN MORE