Fed's Quarles Makes a Friendly First Impression on Wall Street
By
Vice chairman of bank supervision gives first public remarks

He says he's open to taking 'fresh look' at post-crisis rules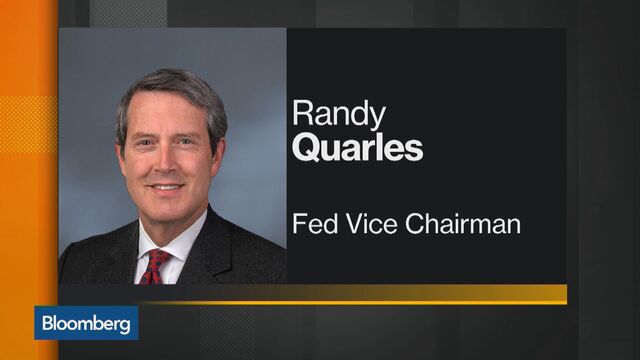 Wall Street got a good first impression Tuesday from Randal Quarles, the Federal Reserve's new chief of bank regulation. 
In his public debut as the Fed's vice chairman of supervision, there was plenty of common ground and a lot of smiling, even if Quarles did play it close to the vest in laying out specific plans.
The main takeaway from Quarles' comments at the Clearing House Association's annual conference in New York: He probably won't be a prickly, hard-to-please watchdog. That would set him apart from Daniel Tarullo, the former Fed governor who routinely irritated bankers by pushing for tough industry rules after the 2008 financial crisis.
While Quarles, 60, demurred on several topics, he did say the Fed will seek outside comment on how to improve the transparency of its annual bank stress tests. And he echoed Wall Street's long-held view about the so-called leverage ratio, which sets limits on how indebted lenders can be. The industry has argued that the leverage ratio shouldn't serve as a binding requirement for how much capital banks need, and Quarles said he agreed.
Rethinking Oversight
Quarles, who was sworn in last month, added that he's broadly ready to rethink the Fed's oversight of Wall Street.
"Everything is up for a fresh look," he said.
Quarles is the first appointee of President Donald Trump to join the seven-member Fed board, which still has several openings for administration nominees.
Trump has already picked sitting Governor Jerome Powell to replace Janet Yellen as chairman. As it happens, Powell and Quarles are old friends and fellow alumni of the Treasury Department. They also have both had stints at private-equity behemoth Carlyle Group LP.
Before it's here, it's on the Bloomberg Terminal.
LEARN MORE