Burr Aims to Finish Russia Probe Report by End of February
By
Senate Intelligence chair hopes to finish interviews in 2017

Trump Jr. interview won't take place this month, Warner Says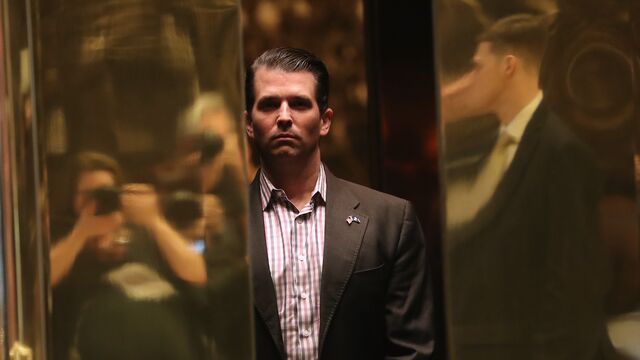 Senate Intelligence Committee Chairman Richard Burr said Tuesday he hopes the panel's interviews on Russia's interference in the 2016 elections can be finished this year, with a final report made public by the end of February.
It's a tight timeline, with some key figures still to be interviewed by committee investigators, including Donald Trump Jr., one of the president's sons. Top panel Democrat Mark Warner of Virginia said earlier that Trump Jr. wouldn't be interviewed this month.
"Can we interview everybody who's on the deck by the end of the year? I think so," Burr of North Carolina told reporters on Tuesday. "It's aggressive, but I think it can be done. Can we then turn around and write a report that encompasses everything that we've learned and push it out the door by the end of February and have it declassified? That's pushing it, but we've got staff that's prepared to do that."
Republicans would prefer not to have to answer questions about the probes as they campaign in next year's elections, with control of the House and Senate in the balance. But even if Burr's probe concludes, other congressional investigations and Special Counsel Robert Mueller's probe could continue.
Burr also said he'd only hold hearings with major figures in the probe if he thinks it would aid the investigation -- a stance that could cause friction with Warner, who has long wanted such hearings to give senators, and not just staff, the ability to question them.
"This has never been a public show trial," Burr said, adding that he would have public hearings if he believed it would aid the investigation.
"If the purpose is just to put somebody out there to publicly have to convey what it is they did, no," Burr said.
Burr said he isn't rushing the probe but wants to get the report out in time to prepare for next year's elections. He said he would hate to be in a position where "we've got to have a new investigation into Russian active measures in the 2018 election."
Burr also rejected the idea of an interim report on Russian interference, suggested last week by Senator Susan Collins of Maine, saying it would be counterproductive to stop the investigation to write a report.
The probe is making significant progress, he said, with more than 25 interviews in October. "Every day that goes on, we know more and more in great detail," he said. "When you interview six people that were in the same meeting, you know pretty quickly whether you're getting the truth from everybody and you know which questions to go back and ask for clarifications."
The committee wants to interview Christopher Steele, a former British intelligence officer who produced a dossier with unverified allegations about President Donald Trump and his ties to Russia. Steele has yet to communicate to the committee his willingness to cooperate, said Burr.
One focus remains on a meeting Trump Jr. had with Russian lawyer Natalia Veselnitskaya after she promised to provide dirt on Democrat Hillary Clinton.
"We still have to deal with other individuals who were in the meeting first," Warner said.
Committee staff have already interviewed Jared Kushner, the president's son-in-law and senior aide, and former campaign manager Paul Manafort, who has since been indicted and charged with financial crimes. Both attended the June meeting.
Separately, Warner also wants to hear more from Facebook Inc. on how many people viewed 120,000 Russian-backed Instagram posts it disclosed to the panel last week. He also said he wants tech companies to back legislation requiring disclosure of the buyers of political ads.
"I'd love to hear any of their explanations why they wouldn't support making sure that Americans know that the political ads they're seeing during a campaign are actually sponsored by Americans," he said.
Senate Majority Leader Mitch McConnell of Kentucky expressed skepticism about disclosure legislation in an interview with conservative radio host Hugh Hewitt posted Saturday and instead pushed the idea of tapping tech companies for the ability to retaliate against Russia.
"We do need to have clearer, brighter lines around cyber doctrine, misinformation and disinformation," Warner said. "It might be an area we could work together collaboratively."
Before it's here, it's on the Bloomberg Terminal.
LEARN MORE