Deutsche Bank Doubles Down on Leveraged Loans in Growth Push
By and
Bank hiring to boost leveraged finance after slide in ranks

'We have the capital and the ability,' says von zur Muehlen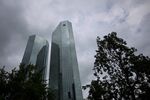 As John Cryan mulls steps to restore growth at Deutsche Bank AG, he's counting on U.S. companies' appetite for ever more debt to help lead the charge.
The Frankfurt-based lender added 24 managing directors and directors at its U.S. corporate finance business this year, a record hiring pace, according to Mark Fedorcik, co-head of Deutsche Bank's global capital markets unit. Among the goals: to become a top arranger of leveraged loans again, the risky debt that has surged amid low interest rates and the prospect of a rollback of post-crisis regulations.
"Next year will be a robust one for U.S. leveraged finance and we're going to capitalize on this," Fedorcik said in an interview. "It's an area that we're going to continue to invest in and regain a top-five position."
Deutsche Bank has slid to ninth place among arrangers of U.S. leveraged loans this year, a lucrative business where it used to be among the top five before the financial crisis, as Cryan, the bank's chief executive officer, reduced risk and expenses. With pressure rising on the 56-year-old Briton to reverse three straight quarters of declining revenue and deploy fresh capital, he is encouraging employees to take more risk again.
Cryan, who is favoring client-focused businesses such as corporate finance to reduce reliance on volatile trading, said last month that he has yet to put to work a single cent of the 8 billion euros ($9.3 billion) Deutsche Bank got from investors in April.

"Deutsche Bank had a premiere leveraged loan business pre-crisis and before they had issues with their balance sheet," said David Knutson, head of credit research for Americas at Schroder Investment Management, which oversees more than $500 billion. "The market looks attractive to them and I'm not surprised they're ramping up."
Deutsche Bank shares rose 0.9 percent to 14.64 euros at 9:13 a.m. on Tuesday, paring losses this year to 4.9 percent.
Banks arrange leveraged loans for companies that are already indebted, and which use the money to finance things like buyouts, pay shareholder dividends and refinance borrowings. The lenders typically seek to sell the debts on to investors, who are attracted by the more lucrative repayment rates.
Loan Frenzy
That attraction has grown as central banks around the world keep interest rates near record lows. Investment banks have arranged $1.2 trillion of U.S. leveraged loans for clients so far this year, more than any other year since at least 2006 and already 18 percent more than all of 2016, data compiled by Bloomberg show.
Adding to the frenzy is the U.S. Treasury Department, which has proposed loosening restrictions imposed on Wall Street banks after the 2008 financial crisis. Some analysts fear this could mean a return to the kinds of high-risk loan deals that saddled lenders -- including Deutsche Bank -- with billions of dollars of debts they couldn't sell during the crash.
Read More: Frothy Leveraged Loans May Get Whipped Up by Regulatory Rollback
"The risks of this debt binge are significant," analysts at Standard & Poor's wrote in an Oct. 10 report. "Excessive leverage can bring down a company as fast as prudent borrowing built it up."
Deutsche Bank partly missed out on this year's boom, slipping to ninth place among arrangers of U.S. leveraged loans, from sixth last year and fifth in 2015, the year Cryan took over. The German lender's 5.4 percent share of the market is its lowest since 2012. Bank of America Corp. and JPMorgan Chase & Co. have dominated the market for years.

The decline was caused by "a little bit of bad luck," said Fedorcik. The firm has also been "more selective" on taking risks "in some cases," further reducing the amount of completed deals, he said.
Deutsche Bank has arranged more than 300 U.S. leveraged loans so far this year, helping clients including software giant Dell Technologies Inc. and hotel chain Hilton Worldwide Holdings Inc. borrow about $61 billion, according to data compiled by Bloomberg.
'Core Business'
The hires in the U.S. corporate finance business bring staffing level back to where they were at the beginning in 2016, before speculation about its financial strength rattled the bank and management introduced the steepest bonus cuts in the bank's recent history. Hires this year include Philip Pucciarelli and Robert Verdier, two health-care investment bankers who joined from BMO Capital Markets.
Deutsche Bank also added professionals in its trading operations, bringing in Alexandra Cannon from Barclays Plc as a director in leveraged-loan sales in July. Paul Huchro, who retired from Goldman Sachs in 2015, is joining to oversee investment-grade trading globally as well as high yield in the U.S. and Europe, the bank said last month.
Deutsche Bank can revise its stance on how much risk it wants to take on leveraged loans at any time, said Alexander von zur Muehlen, Fedorcik's co-head.
"We have the capital and the ability for the business," said von zur Muehlen. "U.S. leveraged finance is a core business for us."
Deutsche Bank has also focused on regaining share for leveraged loans in Europe, a smaller market that the lender led until loosing the top slot in 2014 and tumbling to ninth place in 2016. So far this year, the firm has arranged 11 billion euros of the debts, more than any other bank, according to data compiled by Bloomberg. It remains one of the continent's biggest underwriters in high-risk, high-yield bonds.
'Juicy Stuff'
While investors are attracted to the high yields from leveraged loans, investment banks are lured by the fees.
"Leveraged finance is juicy, juicy stuff," said Tim Hall, global head of debt capital markets at Credit Agricole SA until last year. "In corporate banking, it probably has the best margins."
Yet the fees are lucrative for a reason: banks take the risk that investor appetite for leveraged loans may suddenly disappear before they can sell on the debts. Deutsche Bank lost about 2.5 billion euros on "leveraged loans and loan commitments" in 2007 and 2008 combined, annual reports show.
"Anyone getting into this sector today should have a good understanding of where we're at in the cycle of leveraged loans," said Knutson. "Are we closer to midnight in terms of the exhaustion of it or are we halfway through?"
— With assistance by Sally Bakewell
Before it's here, it's on the Bloomberg Terminal.
LEARN MORE