Cryptocurrency Pioneer Sees a 'Total Bubble.' Just in a Good Way
By and
Joseph Lubin says boom reflects slow infrastructure buildout

Lubin sees China's move to halt exchange as 'pause,' not ban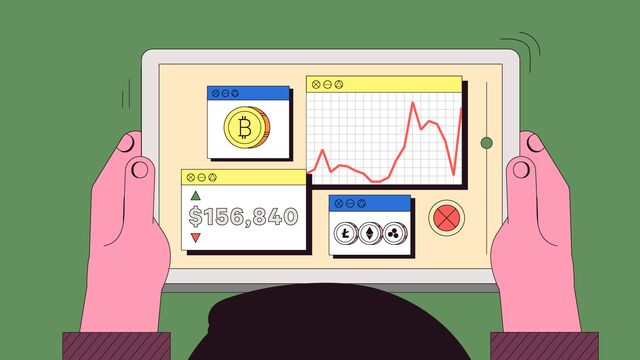 Cryptocurrency pioneer Joseph Lubin said the market is "totally a bubble" -- insisting that's a healthy signal.
"This is the good kind of bubble that occurs when a profound technology emerges and can't build out its infrastructure fast enough for all the people that see the value and the vision," according to Lubin, who co-founded the ethereum digital-transactions platform.
Bitcoin's seven-fold increase this year has ramped up speculation among investors from Ray Dalio to Peter Thiel over price sustainability and whether supply-demand analysis applies to technologies that are opaque and mostly unregulated. Bitcoin's meteoric ascent contrasts with its less-than-4 percent growth this year in new supply.

As investors and banks take increasing interest in blockchain technology that's the backbone of bitcoin and ethereum transactions, industry pioneers including Lubin often address doomsayers head on. Any price correction should help strengthen the industry going forward, said Lubin, who later founded ConsenSys, a developer of applications for bitcoin competitor ethereum.
"We will see bubble, after bubble, after bubble, each larger than the last and each creating more fundamental value, because this technology is so powerful and profound that it is going to change the way IT systems around the world are being built," Lubin said in an interview in Dubai and in emailed comments Nov. 3. He was in Dubai for a developers program last month.
That's not the way Dalio sees bitcoin.
"It's very much speculative people thinking, 'Can I sell it at a higher price?' And so, it's a bubble," the Bridgewater Associates Inc. founder said in a CNBC interview in September. Saudi billionaire investor Prince Alwaleed compared bitcoin to Enron.
China 'Pause'
Lubin foresees China's halt of exchange trading of cryptocurrencies as a pause, not a ban. The country's decision to stop was "sort of good news, because this means that China has recognized that this important space is growing and has become big enough to stop and take a closer look."
He said China may have a different view on governance than the U.S. "Perhaps they prefer to have more control. I believe they want to instrument situations a little better, so that they have a better understanding of what is going on in the exchanges."
Bitcoin fell 1.6 percent to $7,000.39 as of 4:31 p.m. in London.
Before it's here, it's on the Bloomberg Terminal.
LEARN MORE