GOP Shows Small Shift on Gun Legislation After Texas Massacre
By and
Senate Republican says background checks have too many gaps

Air Force failed to report Texas gunman's earlier conviction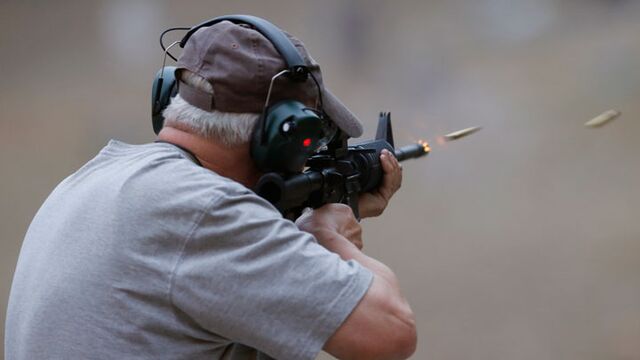 A Senate Republican chairman scheduled a rare gun-control hearing next week after a GOP leader from Texas said he's willing to work with Democrats to close gaps in national background checks for firearm purchasers.
Senate Judiciary Chairman Chuck Grassley of Iowa said Tuesday his panel on Nov. 14 will discuss regulation of firearm accessories, such as the "bump stocks" used by the man who killed 58 people in Las Vegas on Oct. 1, and enforcement of the national criminal background check system for gun purchasers.
Earlier in the day, second-ranking Senate Republican John Cornyn said he'll work with Democrats to close gaps in the background checks following the discovery that the gunman who killed 26 people in a Texas church on Sunday slipped through the system.

Cornyn told reporters that he's talked with Democratic Senators Chris Murphy, Jeanne Shaheen and Martin Heinrich "and I think we are interested in trying to find a way to work together to deal with improving the background check system and fixing these holes."
Devin Patrick Kelley, 26, identified as the killer in the mass shooting on Sunday, shouldn't have been able to purchase the semi-automatic rifle he used in the attack because while in the Air Force he was convicted in a court martial of domestic abuse in 2012. The Air Force admitted Monday that it failed to report the conviction to the FBI's national database of criminal records that is used for background checks.
That failure is being investigated by the service's inspector general, and the Defense Department also is reviewing procedures to ensure records in other cases are being reported properly. Senate Armed Services Chairman John McCain of Arizona promised "rigorous oversight" of the investigation.
Senator Jeff Flake, an Arizona Republican, said that since modern record-keeping for the background check system began in 2007, "there has only been one instance, just one, of the military reporting a charge like this to the database," compared with about 12,000 people given a dishonorable discharge, preventing them from owning a firearm. 
Flake and Senator Martin Heinrich, a New Mexico Democrat, said Tuesday they'll introduce a bill requiring the military to report people convicted of domestic violence in criminal or military court to the National Instant Criminal Background Check System. The military code doesn't have a specific classification for domestic violence cases, Flake said.
Accurate Checks
Cornyn, the second-ranking Senate Republican, said in a statement that according to the Justice Department, the number of such records entered into the federal database "is staggeringly low." He said his legislation is aimed at making the background check system more accurate and ensuring compliance by all federal agencies and by state governments.
While multiple mass shootings in recent years have been met by solid Republican resistance to any new gun-control measures, the massacre in Texas, Cornyn's home state, has brought at least a small shift on making background checks more thorough. It also broke through the response from gun-rights advocates that it was too soon after the tragedy to discuss solutions.
"I don't think we will be able to stop all of these sort of things, but if we can stop one" it would be worthwhile, Cornyn said in Washington. He predicted that talk of restricting Americans' gun rights "gets us into a stalemate again," while fixing existing laws to improve the background check system is an area where "we ought to be able to work together."
Earlier, before Grassley announced plans for the committee hearing, Senate Minority Leader Chuck Schumer said he wasn't optimistic Congress will be able to pass legislation amid opposition to gun measures by the National Rifle Association. Discussion in Congress of legislation to ban "bump stocks" used to achieve rapid firing similar to a fully automatic weapon had largely died down last month after the NRA expressed opposition.
"Even with the modification that allows semiautomatics to be made into automatics, they're backing off," said Schumer, a New York Democrat. "Even on the most rudimentary things that 90 percent of all Americans would support, they're afraid of the NRA so I'm not optimistic that we'll be able to get something done."
"We are going to continue to press the case," said Murphy of Connecticut, who has sought limits on gun ownership since the 2012 massacre of 20 schoolchildren and six educators in Newtown. He said he and Cornyn have talked about working together to "clean up the existing background check system."
Cornyn said states need more incentives -- and possibly resources -- to comply with reporting and records requirements.
"The status quo is really lousy, so I think we are just going to have to go back to the drawing board to try to figure out what we can do," Cornyn said.
While Cornyn is likely to get support from Democrats and at least some Republicans for action to tighten the background check system, President Donald Trump expressed skepticism about restricting access to guns. Speaking Monday in Tokyo, Trump told reporters: "This isn't a guns situation. This is a mental health problem at the highest level."
— With assistance by Steven T. Dennis
Before it's here, it's on the Bloomberg Terminal.
LEARN MORE