Congo Opposition Parties Reject Plan for Presidential Vote
By
Opposition parties reiterate call for president to step down

Electoral commission scheduled presidential vote for Dec. 2018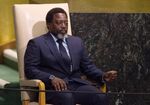 Opposition parties in the Democratic Republic of Congo presented a united front to reject plans for elections in December 2018 and insisted that President Joseph Kabila step down before the end of the year.
Three large opposition groups issued identical statements on Tuesday denouncing a schedule published Nov. 5 by the Independent Electoral Commission that sets presidential and parliamentary polls for Dec. 23, 2018.
The Rassemblement, an opposition coalition, along with the the Union for the Congolese Nation and the Movement for the Liberation of Congo all said the electoral calendar has "a fraudulent and deceptive character" that "unilaterally and abusively prolongs the mandate of Joseph Kabila."
Kabila, who's led Africa's biggest copper producer since 2001, was supposed to step down at the end of his second term in December 2016 after an election to find his successor. That vote was delayed and Kabila remained in office, sparking protests in which dozens of people were killed by security forces. The central African nation, which gained independence from Belgium almost six decades ago, has never had a peaceful transfer of power.
Opposition groups, including the Rassemblement, struck a deal with Kabila's ruling coalition on Dec. 31 accepting he could remain in power if presidential and parliamentary elections were held this year. CENI, as the electoral commission is known, has repeatedly blamed financial and logistical difficulties for its inability to organize timely polls and warned Nov. 5 that these constraints could still delay elections further.
Main Obstacle
The opposition accuses Kabila, who is barred by the constitution from standing in the next election, of being the main obstacle holding up the electoral process and CENI of working in the president's interests.
They said the commission's calendar "confirms once more that with the current CENI and Joseph Kabila at the head of the Congolese state, we cannot hope for the quick organization of elections for a handover of power in the DRC demanded by the Congolese people." They called for the "imperative departure of President Joseph Kabila on Dec. 31, 2017" and said elections for his successor should be held no later than June 30, 2018.
The African Union welcomed the publication of the date for the presidential vote, while the U.S. State Department said in a statement Congo "has taken a significant step toward realizing its first peaceful, democratic transfer of power" and urged Kabila to respect the constitution by not seeking a third term.
Kabila's coalition, the Presidential Majority, has accepted CENI's calendar and called on its members to prepare for elections. Government spokesman Lambert Mende said on Wednesday the schedule is "a decisive step in the electoral process."
"The government intends to do its part to ensure that this realistic timetable is scrupulously respected," Mende said.
Before it's here, it's on the Bloomberg Terminal.
LEARN MORE