China Has a Plan That Could Hand Trump a Win on the Deficit
Bloomberg News
On eve of Trump visit, commerce minister promotes import fair

Says China imports expected to exceed $10 trillion in 5 years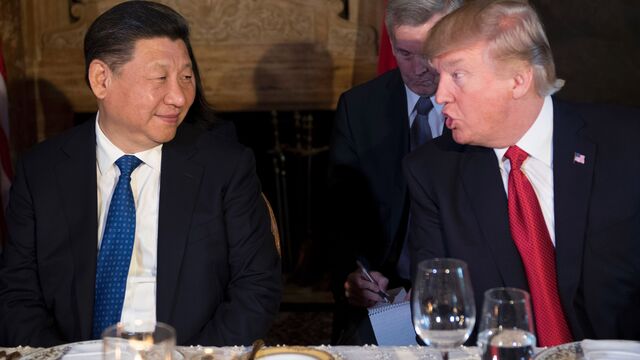 When Donald Trump lands in Beijing this week intent on tackling one of his biggest irritations -- the trade deficit -- he could get help from an unlikely source: his hosts.
In response to questions from Bloomberg News, China's Commerce Minister Zhong Shan laid out a list of measures being undertaken that could help narrow the $327 billion gap, America's largest with any nation.
China will host its first-ever import fair in November next year, and will roll out tax, fiscal and administrative initiatives aimed at helping foreign firms sell more into what is becoming a big and sophisticated consumer market, Zhong wrote.
Slated for Shanghai in November 2018, the China International Import Expo (CIIE) reflects China's "sincere wish to open its market to the world and its sense of responsibility as a big country to push for an open world economy," he said.

Click here to read trade minister Zhong Shan's comments in full
The deficit between the U.S. and China, which has almost quadrupled since the latter joined the World Trade Organization in 2001, has provided much fodder for Trump.
The U.S. president regularly lambasted the imbalance during his campaign and returned to the theme in Japan on Monday, when he devoted part of his press conference with Prime Minister Shinzo Abe to talking tough on trade with China, vowing to take "very, very strong action" on the issue. Meanwhile, Zhong's U.S. counterpart, Commerce Secretary Wilbur Ross, has described China as "one of the most protectionist" countries in the world.

"In the coming five years, (China) is expected to import over $10 trillion of goods and services," Zhong wrote. The import fair "with its potential to increase exports for countries around the world and enable the trade and economic cooperation between China and the rest of the world, will offer broad prospects for development."
In the past half decade, China's imports from the rest of the world have totaled about $8.9 trillion worth of goods and services, according to IMF data.
U.S. and European trade officials have complained for years that despite China's promises to open up, tariffs, intellectual property theft, forced transfers of technology and other rules that target foreign companies make doing business there difficult. The access afforded Chinese companies into their own markets provides a further rub.
The deficit "has to come down," Trump said Monday. "And that has to do really with free trade, fair trade, or reciprocal trade. And frankly I like reciprocal the best of the group."
Still, the countries remain at odds over the causes and impact of the trade imbalance. China blames a "surplus transfer," which Zhong says is the result of how global trade is organized. China frequently acts as the final link in a manufacturing chain where parts are made in multiple countries before being finally assembled -- and exported -- from there.
China could overtake the world's No. 1 economy sooner than you think: read more here.
"China does not deliberately seek a trade surplus," Zhong said. "It is a result of market competition. Though China makes its name for trade surpluses, it is more than China that benefits from them."
— With assistance by Ken Wills, and Miao Han
Before it's here, it's on the Bloomberg Terminal.
LEARN MORE