Venezuela Bonds Now Yield a Record 40 Points Over U.S. Treasuries
By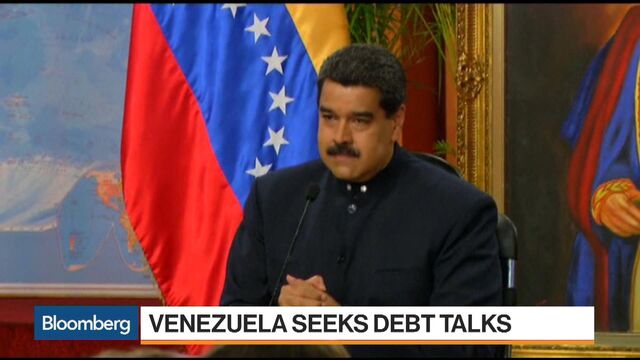 Venezuelan debt is teetering toward default with average prices near 30 cents on the dollar.
As investors ponder an invite from the government to come to Caracas next week to discuss a restructuring (or renegotiation or refinancing, depending on which official is speaking), they now demand a record 40.8 percentage points of extra yield over U.S. Treasury bills to hold the country's bonds. No one really expects those yields to pay out as Venezuela seeks debt relief, but they do give an idea as to just how distressed the securities have become.
The spread implies that if the government were to issue new notes it would either have to pay a coupon near that figure or sell them at an extreme discount from the face price. In a normal sovereign restructuring, negotiations would probably lead to a haircut for bondholders around current prices. The problem is that U.S. sanctions ban creditors from engaging in financial transactions with President Nicolas Maduro's regime. The individually sanctioned duo of Vice President Tareck El Aissami and acting Finance Minister Simon Zerpa (who also runs finances at state oil company PDVSA) won't make the process any easier.
Here's the chart with the white line showing the record spread over Treasuries and the blue line showing the average yield, according to data from JPMorgan Chase & Co. Perhaps the most surprising bit is that the average yield still hasn't topped a very bad day in February 2016.
Before it's here, it's on the Bloomberg Terminal.
LEARN MORE