Investing In ICOs May Be Even Riskier Than You Realize
By
Research group looked at 65 of the biggest by market value

SEC warned of possible regulatory scrutiny earlier this year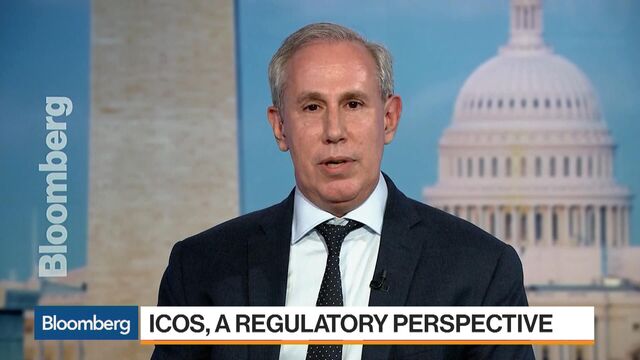 Investing in the burgeoning world of initial coin offerings may be even riskier than it appears.
In a recent analysis of 65 of the biggest digital tokens from ICOs as measured by market value, almost 75 percent were found to have a medium to high probability of being regulated as a security, according to database operator and researcher Token Report. The firm looked at factors such as whether issuers made public statements about potential investor gains and whether they had actual working products.

That increases the stakes for the startups that have raised more than $3 billion this year through the alternative fundraising maneuver and for the investors seeking to get in on the ground floor of the next big thing. The U.S. Securities and Exchange Commission warned the industry in July that if these tokens are effectively securities such as stocks or bonds, they may need to be registered with the agency. Regulators could require issuers to refund all money to investors, as well as level fines on the startups.
"This is not an exact science," said Alex Michaelis, co-founder of ICO tracker CoinSchedule. "All that ICO projects can do is consult with lawyers and set themselves up in a way that makes it more unlikely that the SEC would interpret the token as being a security."
Even online exchanges that list tokens that should be securities but aren't registered properly could be in trouble, according to Marco Santori, an attorney at Cooley LLP.
QuickTake: What's an initial coin offering
To check if a token is a security, the SEC applies the so-called Howey test, which emerged after a 1946 Supreme Court case. Under the analysis, a token could be classified as a security if it's an investment of money in a common enterprise with an expectation of profits.
Most ICOs today claim that they are exempt from regulation because the coins they issue are utility tokens -- themselves critical parts of running their businesses -- versus securities subject to the Howey test.
Startups may be able to protect themselves by limiting token sales to accredited investors, and providing more disclosures in their white papers, such as any conflicts of interest, salaries for the principals and risk factors, according to Robert Heim, an attorney at Meyers & Heim LLP, who used to be an assistant regional director of the SEC in New York.
Read more on how the SEC is monitoring digital coin sales
"They want to protect their investment," said Heim, whose clients include institutional investors looking to invest in ICOs. "If they invest money, and it turns out there's a security law violation, the company won't be a successful candidate for an investment."
Others are trying to use an approach called Simple Agreement for Future Tokens (SAFT), co-developed by Cooley and offering a way to essentially issue options to buy tokens instead of the tokens themselves. But this could bring the startups under the purview of the Commodity Futures Trading Commission, although many of them believe that tokens fit the definition of virtual currency which the commission doesn't plan to regulate.
In the end, the biggest factor that should trouble the startups may be that token buyers are investing with an expectation of a profit, according to Lex Sokolin, global director fintech strategy at Autonomous Research.
"The motivations of investors matter," Sokolin said in an email. "If tokens are being bought primarily for speculative investment reasons, and companies are issuing them knowing that the tokens are seen as an investment by the token buyers, that would create an expectation of profit."
Before it's here, it's on the Bloomberg Terminal.
LEARN MORE