Sprint Gears Up for Battle After T-Mobile Merger Talks Collapse
By , , and
Debt of $38 billion, investment needs weigh on company

SoftBank pledges to acquire more shares in open market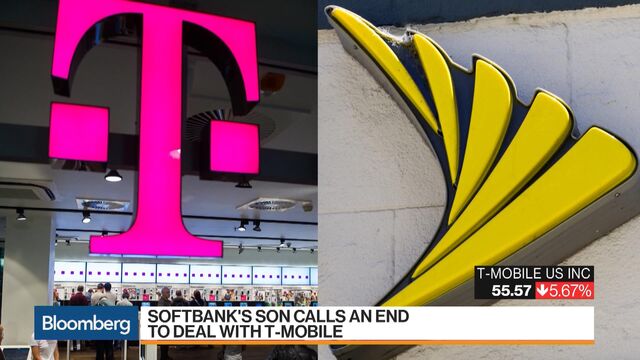 Sprint Corp.'s lifeboat sailed away, and now it'll sink or swim on its own.
With deal talks with T-Mobile US Inc. officially over, Sprint can't count on a big merger to take care of its troubles. The unit of SoftBank Group Corp. has to invest in its long-starved network, address its $38 billion in debt and figure out a way to gain subscribers without losing money.
It's a tall order, and it's making investors pessimistic. Sprint shares sank as much as 14 percent Monday, and other telecom stocks fell too as Wall Street braced for a new round of price wars and lower profit margins. Sprint's bonds also plummeted over concern the company will need to use more cash -- about $6 billion a year, up more than 50 percent than in 2017 -- to get its network up to speed in a fiercely competitive market.
"This leaves Sprint more or less where they have been for the last 10 years," said Jonathan Chaplin, an analyst with New Street Research. "They are like a rock at the end of a lever. If energy and resources are invested at the other end of the lever they could fly. But without the resources, they are just a stationary rock."
This is the second time Sprint and T-Mobile have failed to combine. offering a glimpse at what's to come. After the first attempt, which was beaten back by regulators, Sprint set in motion a go-for-broke turnaround led by Chief Executive Officer Marcelo Claure. The effort helped stop subscriber losses and put the company on a path to generate cash.
Sprint fell 12 percent to $5.90 at 3:07 p.m. in New York after declining to $5.72. The stock had slid 14 percent from the end of September through Friday as deal talks lingered on without an agreement. Walt Piecyk, an analyst at BTIG LLC, valued a stand-alone Sprint at $4 a share in a note last week.
Sprint's $2 billion of 8.75 percent notes due 2032 fell almost 5 cents Monday to 117.5 cents on the dollar, the biggest loser in the Bloomberg Barclays High Yield Index, according to the bond-price reporting system Trace. Sprint was by far the worst performer in the Bloomberg Barclays High Yield Index Monday, Trace bond-price data show.
Sprint put on a good face Monday, vowing to increase network spending by as much as 50 percent to capitalize on its industry-leading supply of airwaves and catch up to its larger rivals on service quality.
"Even if the next three-four years will be a tough battle, five to 10 years later it will be clear that this is a strategically invaluable business,'' SoftBank Chairman Masayoshi Son, 60, said at a briefing after announcing his company's quarterly earnings.
Financing for the capital investment will come from cash Sprint can generate, untapped credit and more loans secured with airwave licenses, Chief Financial Officer Tarek Robbiati said during a call with analysts Monday.
"At least they aren't pretending that they can have a great business without investing," Chaplin said. "They are increasing investment, but the level of investment is such that it will take a while to see real change."
The problem for Sprint is that it can't afford to invest much more. Half of its debt and obligations are coming due over the next four years.
"They don't produce enough free cash flow to cut into the debt," said Dave Novosel, a bond analyst at research firm Gimme Credit. "The only possible way to do that is to continue cutting costs."
One way could be to share costs. In an agreement announced Sunday, Sprint said it will use cable provider Altice USA Inc.'s broadband infrastructure to strengthen its nationwide network. Altice will also sell wireless service using Sprint's network. The deal helps enhance Sprint's coverage in places where Altice provides service under the Optimum brand, including Long Island, New York. And it could be the start of a deeper relationship.
"We suspect Altice is testing the waters before fully committing," Colby Synesael, an analyst at Cowen & Co., wrote in a note. "As such, the partnership could be the precursor to a future merger between the two."
It's possible another buyer or partner could come along. Despite sluggish growth and heavy competition in the U.S. market, the prospect of a new generation of wireless services powering self-driving cars and automated appliances is what led SoftBank's Son to turn down the deal with T-Mobile and forge ahead alone with Sprint.
"It's time to move on, there are better opportunities out there," Novosel said. "What Sprint brings to the table is that they have a boatload of spectrum, so there's value there. Now the question is who really wants that."
Couldn't Agree
SoftBank, Sprint's corporate parent, is unlikely to commit additional resources to improve Sprint's finances, though the Tokyo-based company said Monday it intends to increase its stake in Sprint through share purchases on the open market. The increased holding won't top 85 percent, the company said.
Why Mobile's Future Depends on Scarce Spectrum Space
Sprint controls the largest holding of 2.5 gigahertz airwave licenses in the U.S., a crown jewel that has been obscured inside a money-losing business. Son has considered measures like a spinoff of Sprint's airwaves to help extract some of that value.
A wireless telecommunications network will be critical to support investments that Son plans to make via the Vision Fund, a $100 billion investment giant that he's creating with the Saudis and other backers to speed up investments in technology startups abroad. "Having U.S. telecom infrastructure is essential and we need to keep control," he said.
— With assistance by Emma Orr
Before it's here, it's on the Bloomberg Terminal.
LEARN MORE