Plante Ousts Coderre to Become Montreal's First Female Mayor
By
Leader of Projet Montreal was little known before she ran

Coderre ousted from municipal politics after just one term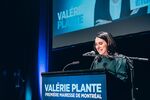 Valerie Plante won her bid to become Montreal's first-ever female mayor by knocking off incumbent Denis Coderre, a career politician whose sometimes abrasive style may have cost him a second term.
The 43-year-old Plante got about 51 percent of the vote in Sunday's municipal election compared with about 46 percent for Coderre, according to the city's election website. The 54-year-old former federal immigration minister becomes the first incumbent not to win reelection in Montreal since 1960. After conceding defeat, he told voters Sunday night he would quit municipal politics.
"We made history," Plante told a cheering crowd Sunday night after her win was confirmed. "Tonight is a great night but we have lots of work to do in the coming years. We got here because of you, and I will need your help to get the work done."
Plante, who heads the left-leaning Projet Montreal party, takes over a city of about 2 million people that has posted surpluses for each of the past three years and has shaken off the corruption scandals that pushed two of Coderre's three predecessors to resign. Canada's second-most populous city, which is celebrating its 375th anniversary this year, is in the midst of a multiyear plan to rebuild aging infrastructure such as roads and sewage systems.
She told supporters she would focus on issues such as public transit, affordable housing, improved municipal services and safer streets.
An anthropologist who also holds a master's degree in museum studies, Plante entered municipal politics in 2013 after spending most of her career working for nonprofit groups that focus on community action. She was elected leader of Projet Montreal in December, and didn't shy away from controversy by branding herself "the right man for the job."
New Subway
Unknown to many when the campaign began, Plante saw her support steadily climb in opinion polls in the last few weeks as she pitched projects such as a new subway line, while criticizing Coderre for having lost touch with voters.
In recent weeks, Coderre drew criticism from newspaper columnists and rivals alike for his role in attracting an electric-car race that required the city to block off some downtown streets and turned the area near the track into a construction zone. In the end, sales fell short of projections and organizers gave away almost half of all tickets. Coderre estimated hosting the so-called Formula E event cost Montreal about C$24 million ($19 million) over six years.
Plante has pledged to reopen the contract to host the race.
"Valerie Plante ran an incredibly strong campaign by focusing to day-to-day issues that struck a nerve with voters on the ground," Chris Erl, a McGill University researcher who focuses on diversity in municipal politics, said Monday in a telephone interview. "In the final days it was evident she had the momentum. People were ready to give her a chance. In part it was frustration with Denis Coderre's perceived arrogance. He was on the defensive."
As the vote neared, five prominent local business executives wrote an open letter –- published Saturday in La Presse newspaper -– urging voters to support Coderre and allow Montreal's "momentum" to continue. The group, which includes Cirque du Soleil Chairman Mitch Garber and Claridge Inc. Chairman Stephen Bronfman, argued that Coderre has improved the city's business climate and allowed companies of all sizes to flourish. They hailed the mayor as a "visionary."
La Presse was one of three Montreal newspapers -- along with Le Devoir and The Gazette -- to endorse Coderre for mayor.
Quebec Engine
As Quebec's biggest city, Montreal serves as the economic engine of the mostly French-speaking province. Its main industries include aerospace and information technology, featuring companies such as Bombardier Inc. and CGI Group Inc.
Montreal is also growing into an artificial intelligence hub, with French defense company Thales SA and Facebook Inc. both announcing research centers in the city this year. Amazon.com Inc. also picked the city to open its first Canadian cluster of data centers, while Alphabet Inc.'s Google chose Montreal to become its seventh cloud region globally.
Montreal posted a budget surplus of C$139.5 million for 2016, its third consecutive year in the black. The city's debt is ranked AA- by S&P Global Ratings and Aa2 by Moody's Investors Service. Both ratings are investment grade.
In an Aug. 30 note affirming Montreal's credit rating, S&P highlighted the city's "capable and experienced administration, which regularly monitors key external risks and updates senior management, implements council's decisions."
— With assistance by Sandrine Rastello
Before it's here, it's on the Bloomberg Terminal.
LEARN MORE