How McConnell May Have Inadvertently Undercut the Coal Industry
By
Majority leader's former aide to be replaced as FERC chairman

Former wind lobbyist, lawyer added to federal energy panel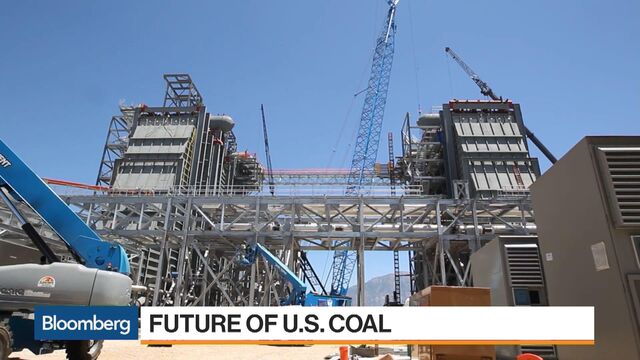 Senate Majority Leader Mitch McConnell is one of coal's best friends in Washington, but the Kentucky Republican may have undercut his home state's chief fuel by rushing through the confirmation of two obscure energy regulators.
After the Senate confirmed the last members of the Federal Energy Regulatory Commission, a former McConnell aide may not be leading FERC's review of a proposal to bail out coal-fired power plants. And those two newly confirmed FERC members -- Kevin McIntyre and Richard Glick -- have vowed not to tilt electricity-market rules in favor any particular fuel.
"It changes the dynamics for sure," Tom Pyle, president of the American Energy Alliance, a free market advocacy group, said in a phone interview. "It definitely means the rule as envisioned is not what FERC ends up with."
On Thursday the Senate confirmed the two nominees by a voice vote. McIntyre is set to replace Neil Chatterjee, the former McConnell aide, as chairman of the panel. Both Glick, a Democratic Senate staff member, and McIntyre, an energy lawyer at Jones Day, have yet to be sworn in.
While the energy panel is unknown to most Americans, it has broad power over electricity markets, pipeline permits and applications to export natural gas. 
FERC is in the spotlight now as Rick Perry, the secretary of Energy, proposed that the panel authorize price supports to keep coal and nuclear power plants alive. The rule, which has been criticized by groups ranging from the American Petroleum Institute to the Sierra Club, was already no slam dunk. But the two new nominees make it even less likely that FERC adopts Perry's plan before a Dec. 11 deadline.
Read More: U.S. Energy Regulator Says Coal More Reliable Than Natural Gas
"With or without the two new additions, this rule is most likely going to fail," said Devin Hartman, a former FERC staffer who knows is a senior fellow at the R Street Institute. "This is a not very cleverly disguised subsidy, so I think anyone familiar with this field is immediately alarmed by it."
McConnell "made it clear to McIntyre and others that the review at FERC is a top priority for him," Don Stewart, McConnell's spokesman, said in an email. "Both FERC nominees Thursday were confirmed by a unanimous voice vote."
"The White House and every coal state Senator agreed. Every single one," he added.
Robert Powelson, a member of the commission appointed by President Donald Trump, said he wouldn't agree to measures to "blow up" electricity markets, but would look at how best to compensate coal plants. And the fifth commissioner Cheryl LaFleur, a nominee of former President Barack Obama, has also voiced skepticism of the proposal.
Chatterjee, who will remain as a FERC commissioner after his expected replacement as chairman, has articulated the most support for the idea of helping struggling coal plants. He has repeatedly said coal-fired plants are a crucial part of America's energy mix that need to be "properly compensated to recognize the value they provide."
"These are the types of difficult fights that get punted and punted and punted again," he said in an interview last month. "I truly think there is a way to do this without distorting markets."
Even if Perry's exact proposal isn't adopted by the commission, some kind of change in pricing to help coal and nuclear power plants could emerge, said Mike McKenna, a GOP energy lobbyist.
"There seems to be widespread agreement that there is some value associated with resilience and some value associated with the insurance perhaps provided by nuclear and coal units," he said in an email. "The conversation is now about how to value those elements."
Before it's here, it's on the Bloomberg Terminal.
LEARN MORE