Here's What Wall Street Is Saying About Broadcom Buying Qualcomm
By and
Analysts optimistic on synergies but caution long road ahead

Next question is whether Broadcom keeps all of the assets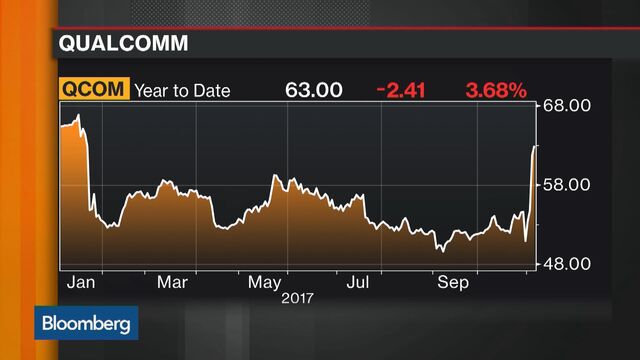 Broadcom Ltd. made a $105 billion offer for Qualcomm Inc. Monday, in what will be the largest technology deal ever if it's successful. That's a big if.
Qualcomm is already preparing to fend off the unsolicited bid, arguing that it undervalues the company, according to people familiar with the matter. Broadcom, seeking to build a powerhouse in smartphone technology, has said it won't give up on this deal easily. It's prepared to launch a proxy battle should Qualcomm spurn the $70-a-share proposal, a person familiar with the matter has said.
To acquire Qualcomm, the world's largest maker of mobile-phone chips, Broadcom would pay a 28 percent premium over the stock's closing price on Nov. 2, before Bloomberg first reported talks of a deal. The proposed transaction would be valued at approximately $130 billion, including $25 billion of net debt.
Wall Street will be watching closely how the deal unfolds. Here's a wrap of what they've said so far.
BMO Capital Markets, Tim Long
"Broadcom management comments about 'confidence that our common global customers would embrace the proposed combination' could mean that the company has had discussions with large OEMs like Apple and Samsung."
Canaccord Genuity, T. Michael Walkley
"We believe the combination could create shareholder value through potential accretion, synergies, increased share with Apple and Samsung; in addition, Broadcom could potentially settle the licensing dispute with Apple in a more-timely manner than could Qualcomm, given Broadcom's strong relationship with Apple. Further, we believe Qualcomm and Broadcom are uniquely positioned for reaccelerating revenue and earnings growth as the market transitions to 5G."
Mizuho, Vijay Rakesh
"Given Broadcom's press release regarding pursuing a U.S. M&A strategy, we believe Broadcom potentially sees accretion in the Qualcomm Technology Licensing segment. Given the leverage required for the deal, there is potential Broadcom may spin-off or sell the [mobile chip] segment, which could lower the leverage required."
"We believe a Qualcomm acquisition could potentially entail Broadcom retaining the $6 billion ~95 percent licensing cash cow and, depending on the leverage, keep [chips] or sell it to another chip OEM."
KeyBanc Capital Markets, John Vinh
"We are positive on the potential of this acquisition as it would bring in complementary cellular products and cost synergies, leading to immediate earnings per share accretion. We estimate Qualcomm/NXP Semiconductors would drive over $13 in earnings per share accretion and result in consolidated earnings per share of $32.06, resulting in fair value of $465."
RBC Capital Markets, Amit Daryanani
"There is a long road here, while Broadcom is one of the most disciplined acquirers, we think in an unsolicited offer – rarely is the 1st offer the last one, suggesting there is an upside bias to Broadcom's math. Net/Net: We think this deal fits Broadcom's strategy and could be a material catalyst to enable earnings per share and free cash flow upside."
There are currently 27 buys, 2 holds and no sells on Broadcom with an average 12-month price target of $291. There are currently 10 buys, 16 holds and no sells on Qualcomm, with an average price target of $61.74, according to data compiled by Bloomberg.
— With assistance by Jeran Wittenstein
Before it's here, it's on the Bloomberg Terminal.
LEARN MORE