EU Businesses to Pull Back on U.K. Suppliers Amid Brexit
By
Limiting tariffs should be priority in talks, survey finds

Success of negotiations depends on certainty, group says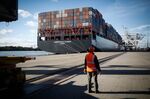 Follow @Brexit for all the latest news, and sign up to our daily Brexit Bulletin newsletter.
Almost two-thirds of European Union businesses that work with U.K. suppliers plan to move some of their supply chain out of Britain because of its withdrawal from the bloc, according to an industry group.
That's an increase from May, when 44 percent of EU businesses expected to pull back from the U.K., according to a survey the Chartered Institute of Procurement & Supply released Monday. The group also found that 40 percent of U.K. businesses with EU suppliers have begun looking for domestic companies to replace them, up from 31 percent in May.
The findings underscore the concern among executives that the lack of an agreement on the terms of a British exit is hurting businesses. Prime Minister Theresa May told one of the nation's biggest business groups on Monday that she backs a transition period to give companies more certainty, while urging executives to be more optimistic about the process.

"The Brexit negotiating teams promise that progress will be made soon, but it is already too late for scores of businesses who look like they will be deserted by their European partners," Gerry Walsh, chief executive officer of the institute, said in a statement. "The success of the negotiations should not be measured on the final deal only but on how quickly both sides can provide certainty. The clock is ticking."
The group surveyed 1,118 supply-chain managers around the world from Sept. 4 to Oct. 5 and found that 73 percent said that keeping tariffs and quotas between the U.K. and Europe to a minimum should be the priority for the negotiations. Of British businesses with EU suppliers, 14 percent feel they are sufficiently prepared for Brexit, the group found.
Talks with the European Union over the U.K.'s exit from the bloc are set to resume this week after a rocky start marked by a dispute over Britain's bill for the divorce.
May, speaking at the Confederation of British Industry's annual conference, tried to reassure executives who worry about the effect on business if the U.K. leaves the EU without a transitional agreement. She spoke after the group's president, Paul Drechsler, called for an end to the "soap opera" around Brexit.
"I know how important it is for business and industry not to face a cliff edge and to have the time it needs to plan and prepare for the new arrangement," May said.
— With assistance by Brian Swint, and Alex Morales
Before it's here, it's on the Bloomberg Terminal.
LEARN MORE