Saudi Purge Rattles Investors
By and
Foreigners to shift sentiment toward Saudi markets: Mena Corp.

Arrests latest act of concentration of power in Saudi: Exotix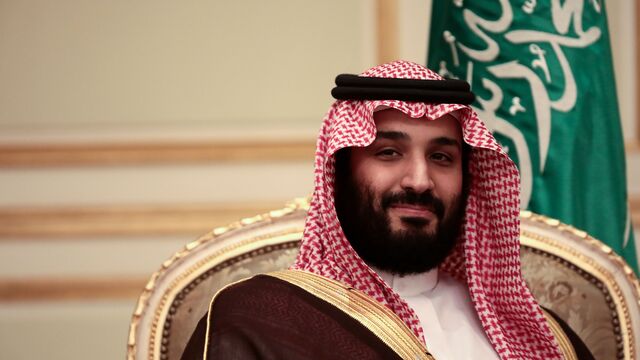 Saudi Arabia has thrown investors a curve ball.
King Salman's move to arrest a string of high-profile nationals, from ministers to princes, has left some encouraged by the authorities' willingness to take on corruption. Yet they're also worried about who might be next.
"This is all new in Saudi Arabia, and the market doesn't know how it will all end," said Tariq Qaqish, managing director of the asset management division at Mena Corp. Financial Services LLC in Dubai. "We will see a shift in terms of sentiment, especially among foreign investors. For local and GCC investors, they will probably be on the sidelines until they understand how this latest move will play out."
Read More: Here Are the Stocks and ETF to Watch After Shock Saudi Arrests
In less than 24 hours, dozens of high profile Saudis were arrested, the government intercepted a ballistic missile Yemeni Houthi fired at Riyadh's international airport, and Lebanese Prime Minister Saad al-Hariri unexpectedly resigned in a televised speech from the kingdom. They're signs of the changing times in Saudi Arabia.
The charges against those detained aren't public, creating even more uncertainty in a market that's already considered opaque. The kingdom's attorney general said that "during the investigation, all parties retain full legal privileges relating to their personal and private property, including funds."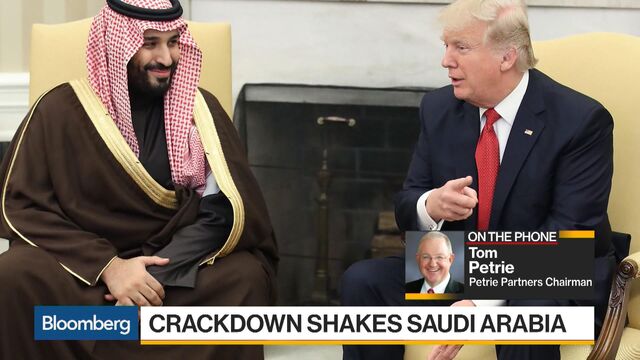 Saudi Makeover
The government is giving the entire nation a makeover, from allowing women to drive to the construction of a new business hub on the Red Sea. The overhaul was kick-started by Crown Prince Mohammed bin Salman, who has bypassed senior royals to become the kingdom's predominant leader, after a plunge in crude prices strained Saudi Arabia's finances and forced the energy-rich nation to confront the realities of life after oil.
Since then, the kingdom has allowed foreigners to trade Saudi stocks directly and shifted the bourse's settlement cycle to T+2, among other changes. But total foreign ownership has lingered below 5 percent of the value of shares on the exchange. The Tadawul All Share Index has declined 3.1 percent this year, compared with MSCI Emerging Markets Index's 31 percent advance.
Read More: Two Years of Reform and Saudi Stocks Have Little to Show for It
The centerpiece of the crown prince's "Vision 2030" reform plan, intended to diversify the kingdom's economy and invest more heavily in infrastructure, is oil giant Aramco's IPO, which could be the world's largest.
The crackdown "is the latest act of concentration of power in Saudi," said Hasnain Malik, the global head of equity research at Exotix Capital. "As unprecedented and controversial as it may be, this centralization might also be a necessary condition for pushing the austerity and transformation agenda, the benefits of which very few investors are pricing in."
Detained Saudis
Among those arrested is Prince Alwaleed bin Talal, the billionaire with stakes in companies such as Citigroup Inc. and Twitter Inc. Ranked the world's 50th richest person with a net worth of about $19 billion, according to the Bloomberg Billionaires Index, Alwaleed is the founder of Kingdom Holding Co., a Riyadh-based investment firm.
Read more: a QuickTake explainer on the young Saudi leader and his big plans
Kingdom Holding's shares fell as much as 5.7 percent on Monday in the Saudi capital after falling 7.6 percent on Sunday, bringing its losses for the year to 25 percent.

Read More: List of People Arrested in Saudi Arabia: Al-Eqtisadiah
"People that were untouchable aren't anymore," said Joice Mathew, the head of equity research at United Securities in Muscat. "Locals might think twice before bringing money in the stock market. People will refrain for making new positions, and be very vigilant and careful."
The Tadawul All Share Index erased declines of as much as 1.7 percent to close 0.1 percent higher on Monday, similar to Sunday's performance. "The index could be getting support from the government -- the Public Investment Fund could be in the market buying," Mathew said yesterday.
The yield on the nation's bonds due March 2028 climbed five basis points, the most in a month on a closing basis, to 3.73 percent. Forward contracts on riyal that expire in 12 months jumped 40 percent in the offshore market, the most since June, to 185 points.
Mohammed Ali Yasin, the chief executive officer of NBAD Securities:

The arrests "are unprecedented in the history of Saudi Arabia and it hasn't been done at this scale or in this public manner before"
The Saudis "are sending a very strong statement to the world that they mean business. If you want to create a new direction, a new environment, you need to change the way business is being done. Some of these names have been there for 30 years"
"Accountability has been introduced, no one is immune. Everybody will be worried now. Going forward, these vacancies will need to be filled by a new generation of people with the same belief as the crown prince"
"People who are related, or close to those" who have been arrested "may be worried. They may react negatively and liquidate their investments to generate cash. So I wouldn't be surprised if we see some negative pressures on our markets in the short term"

Tariq Qaqish at Mena Corp. Financial Services:

"Investors are tired from the issues in the region. They used to be attracted to the high oil prices, wealth, huge government surpluses and political stability, but that appeal has faded. Foreigners are expected to reduce their exposure to Saudi Arabia"

Mazen Al-Sudairi, the head of research at Al Rajhi Capital in Riyadh:

"There should be some initial speculation in general" because people are concerned about the arrests, so that "will be priced in"
"But if you look in the long term, this should be seen as a positive measure that is good for the country and the market. You see a good reaction from the population on Twitter, for example"
— With assistance by Anne Swardson
Before it's here, it's on the Bloomberg Terminal.
LEARN MORE