Congo Plans to Hold Presidential Elections in December 2018
By
Vote will be held a year later than opposition has demanded

U.S. has insisted elections take place no later than 2018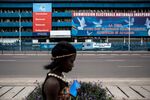 The Democratic Republic of Congo will hold delayed presidential elections on Dec. 23, 2018, the electoral commission said, a year later than opponents of President Joseph Kabila have demanded.
National and provincial parliamentary polls will take place on the same date, Independent Electoral Commission Rapporteur Jean-Pierre Kalamba told reporters Sunday in the capital, Kinshasa. A series of other votes including senatorial, gubernatorial and mayoral ballots will be held from March 2019 to January 2020, he said.
The elections will take place subject to "legal, financial, political and security constraints" being overcome, Deputy Rapporteur Onesime Kukatula said at the briefing where the electoral calendar was unveiled. "The non-respect of the critical dates can lead to the modification of the calendar's implementation."
Kabila, who's led Africa's biggest copper producer since 2001, was supposed to step down at the end of his second term in December 2016 after an election to find his successor. That vote was delayed and Kabila remained in office, sparking protests in which dozens of people were killed by security forces. The central African nation, which gained independence from Belgium almost six decades ago, has never had a peaceful transfer of power.
Opposition groups struck a deal with Kabila's coalition on Dec. 31 accepting he could remain in power if presidential and parliamentary elections were held this year. That accord suffered a major blow last month when the electoral commission, known by its French acronym CENI, indicated it wouldn't be able to hold elections before April 2019.
U.S. Demand
U.S. Ambassador to the United Nations Nikki Haley last month visited Congo for talks with Kabila and CENI President Corneille Nangaa and insisted elections should be held in 2018.
Nangaa on Sunday called for the support of the international community for the electoral process as long as it "takes into account the sovereignty of Congo."
Kabila is barred by the constitution from running in the next election. A new president will be sworn in in January, 2019, according to the calendar.
CENI claims financial and logistical difficulties have hampered efforts to organize polls, and has called on the international community for support. The Rassemblement, the largest opposition coalition, accuses Kabila of being the main obstacle to holding timely elections and CENI of working in the president's interests. It's calling for Kabila to step down before the end of the year and a transition under an interim head of state, a prospect ruled out by the president's political allies.
"CENI does not matter," Rassemblement President Felix Tshisekedi said on his Twitter account before the election-date announcement. "Its calendar will sound the death knell of this wicked regime. Prepare yourselves, Congolese, the time has come to chase out Kabila."
Before it's here, it's on the Bloomberg Terminal.
LEARN MORE