Bill Gross and BlackRock Ponder Flat Yield Curve's True Meaning
By
Gap between yields on shorter, longer maturities at decade low

Gross sees possible slowdown, Rieder blames global demand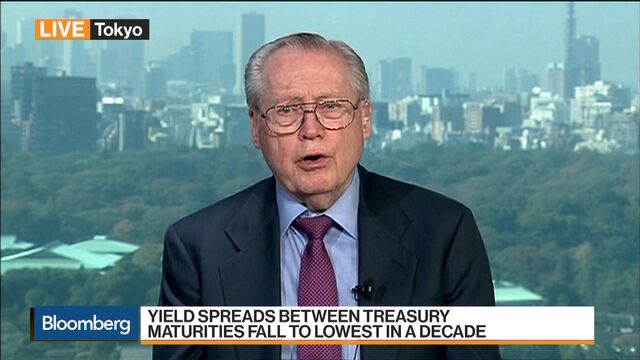 The U.S. yield curve just keeps getting flatter, reaching levels not seen in a decade. What that says about investors' economic outlook depends on who you ask.
To Rick Rieder at BlackRock Inc., long-term Treasuries are "crazy priced wrong to the expensive side," along with debt in Europe and Japan, in part because investors in those regions flock to the U.S. any time debt prices fall. That appetite keeps 10-year Treasury yields in a tight range even as the Federal Reserve sees economic growth warranting additional interest-rate hikes.
Bill Gross at Janus Henderson Group has a gloomier view. For him, the central bank is nearly at its limit for raising rates, given how much debt is sloshing around the U.S. The yield curve from two to 10 years, which dipped to 71 basis points last week, only needs to flatten 20 to 30 basis points more to signal an impending economic slowdown, he said. It's been a reliable recession indicator in the past.
The differing interpretations show how investors are struggling to balance the prospect of further Fed tightening against a backdrop of tame inflation, the lowest jobless rate since 2000 and potential fiscal stimulus. Regardless of the economic signals that one takes away from the shape of the yield curve, there's a consensus on Wall Street that the trend bond traders have seen all year is likely to continue.
"There is no reason why an investor needs to be worried about duration risk when you have a central bank that is pushing tighter policy in the face of low inflation," said Matthew Hornbach, global head of interest-rate strategy at Morgan Stanley in New York. "Buy duration."
The spread between five- and 30-year yields fell last week to 81 basis points, marking the flattest curve since November 2007, right before the start of an 18-month recession. The difference between two- and 10-year maturities is also the smallest in a decade. It was last negative in mid-2007.
Boom Threatened
Gross said his argument hinges on the cost of credit, which increases as the Fed boosts rates. Without that support, which has spurred a corporate borrowing boom, the economy could slow.
Priya Misra at TD Securities agreed that with global interest rates as low as they are, flattening U.S. yield curves aren't necessarily a harbinger of a faltering economy.
"You have negative rates in the rest of the world: Japan is not reducing their level of accommodation, ECB is not hiking until mid- to late-2019," said Misra, TD's head of global interest-rate strategy in New York. "Treasuries at 2.3 percent look pretty cheap if you have bunds at 35 basis points."
There are times to be contrarian, and times to go with the flow. And when it comes to the yield curve, whether one sees it as pointing to tough economic times or merely as proof of relentless overseas demand for American debt, flattening may be the way to go.
What to Watch
President Donald Trump tours Asia; trade and security issues -- particularly North Korea -- will probably be in focus
The Republican tax plan will receive further scrutiny; leaders have reiterated their goal to pass it by year-end
It's a quiet week for economic data as traders digest recent readings on the labor market and inflation

Nov. 7: JOLTS job openings, consumer credit
Nov. 8: MBA mortgage applications
Nov. 9: Initial jobless claims, continuing claims, Bloomberg consumer comfort, wholesale trade sales and inventories
Nov. 10: University of Michigan sentiment, current conditions and inflation expectations

It's not much more lively on the Fed speakers front:

Nov. 6: New York Fed's Simon Potter speaks on policy and balance sheet, while William Dudley discusses lessons from the financial crisis
Nov. 7: Randy Quarles speaks at Clearing House conference, and Chair Janet Yellen to receive award for ethics in government

On Nov. 9, Treasury Secretary Steven Mnuchin speaks to the Economic Club of New York
The Treasury's auction schedule ramps back up, presenting investors with a chance to purchase long-duration securities

Nov. 7: $24 billion of three-year notes
Nov. 8: $23 billion of 10-year notes
Nov. 9: $15 billion of 30-year bonds
— With assistance by Liz McCormick, and Alexandria Arnold
Before it's here, it's on the Bloomberg Terminal.
LEARN MORE