Lebanon PM Resigns, Bringing Saudi-Iran Proxy Conflict to the Fore
By , , and
Saad Hariri resigns in televised speech from Saudi Arabia

Expresses fears that he could be assassinated like his father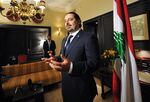 Lebanese Prime Minister Saad al-Hariri unexpectedly resigned on Saturday in a televised speech from Saudi Arabia, saying he feared for his life and accusing Iran and its proxies of destabilizing his country and the region.
Hariri, a pro-Saudi Sunni politician, said Lebanon has suffered enough because of the Iranian-backed Hezbollah and its grip on domestic politics. "I want to say to Iran and its followers that they are losing in their interference in the affairs of Arab nations, and our nation will rise as it did before -- and the hands that are extended to it with evil will be cut off," he said.
The resignation raises the prospect of a renewed political confrontation between Iran and Saudi Arabia in Lebanon at a time when the Islamic Republic and its allies are widely seen to have won the proxy war against Sunni powers in neighboring Syria. Saudi Arabia and Iran are on opposite ends of other regional conflicts such as Yemen and Iraq.
The Lebanese government includes Hezbollah members, and Hariri's decision aims to weaken the group's legitimate representation, said Sami Nader, head of the Beirut-based Levant Institute for Strategic Affairs. "It's part of an all-out Saudi confrontation with Iran," he said.
Balance of Power
As the war against Islamic State in Syria and Iraq winds down, analysts are warning against a surge in other conflicts as regional and global powers seek to divide spheres of influence. And while Saudi Arabia failed in its pursuit to remove Syrian President Bashar al-Assad, an ally of Iran, from power, the kingdom has found a backer in U.S. President Donald Trump in his focus on containing Iran's clout in the Middle East.
Hariri left Beirut for Saudi Arabia on a "work visit" on Friday, the second trip in less than a week. He met Crown Prince Mohammed Bin Salman, who has singled out Iran as the main threat against the kingdom and its interests, on Oct. 30.
In the speech, the outgoing premier expressed fears that he could be assassinated like his father, former prime minister Rafiq al-Hariri, who was killed in 2005. The younger served as prime minister from 2009 to 2011 and took office again in 2016.
"Iran, which sows sedition, devastation and destruction in any place it settles in," he said.
Bahram Qassemi, Iran's Foreign Ministry spokesman, said Hariri's accusations were "unfounded and baseless," according to the state-run Press TV.
Power-Sharing
Under a delicate sectarian power-sharing agreement, Lebanon's prime minister must be Sunni, the president a Maronite Christian and parliament speaker a Shiite Muslim. Parliament elected octogenarian Michel Aoun, a Hezbollah ally, as president a year ago to end a two-year political impasse. Analysts said at the time that his election came with Saudi consent.
In a statement, Aoun said it's important to preserve national unity and political stability. He had contacted the heads of Lebanon's central bank and finance ministry to stress the need for maintaining fiscal stability, according to the president's office.
Riad Kahwaji, head of the Dubai-based Institute for Near East and Gulf Military Analysis, said Aoun has since moved closer to Hezbollah instead of taking a more neutral position as Saudi leaders had hoped. Hariri's decision shows the kingdom will not accept the current balance of power, he said.
"The political scene in Lebanon now and the way things will proceed reflect the Cold War that's heating up between Iran and Saudi Arabia," he said.
Lebanon, a battleground of proxy wars during its 1975-1990 civil war, has largely avoided the sectarian massacres that ravaged its larger neighbor for more than six years. A "solid working relationship" between Hariri and Aoun meant they could focus "on the issues that they could find common ground on," said Hani Sabra, founder of Alef Advisory, a Middle East political risk practice.
Regional Consequences
"The suddenness, tone, and content of Hariri's resignation announcement demonstrates that it is not only potentially destabilizing for Lebanon, but that it is also potentially a more serious, negative regional development," Sabra said.
Under Hariri, the cabinet passed laws including oil and gas decrees for offshore exploration. Rival factions in parliament also approved Lebanon's first budget in 12 years. The turmoil will likely hobble an economy already struggling with the impact of the Syrian war, which cut major trade routes and brought more than 1 million refugees into the country.
The International Monetary Fund expects Lebanon's economic growth to languish below 2 percent this year and next.
"Companies that have bid to explore in the oil and gas sector need a functioning government and need to trust the political climate and require guarantees of stability," Rosanna Bou Monsef, a Beirut-based political commentator, said by phone. "No company would want to invest in such a climate."
Economy Minister Raed Khoury said there was "no fear for the Lebanese pound," according to the state-run National News Agency. Lebanon's currency is pegged to the U.S. dollar.
"Lebanon has gone through bigger crises and maintained stability," he said.
— With assistance by Benjamin Bain
Before it's here, it's on the Bloomberg Terminal.
LEARN MORE