U.S. Trade Deficit Widens as Import Gain Barely Exceeds Exports
By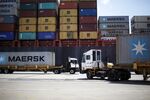 The U.S. trade deficit widened in September as a pickup in imports barely outpaced a gain in exports that reflected a jump in petroleum shipments, Commerce Department data showed Friday.

Highlights of Trade Balance (September)

Gap widened 1.7% to $43.5b (est. $43.2b) from a revised $42.8b in the prior month

Exports climbed 1.1% to $196.8b, highest since December 2014 and led by oil and chemicals

Imports rose 1.2% to $240.3b on industrial supplies, capital equipment and consumer goods

Key Takeaways

The gain in exports reflected more shipments of energy-related materials as ports affected by Hurricane Harvey reopened. American shipments to overseas customers have received a boost this year from improving global demand and a weaker dollar, which has made U.S. goods cheaper for overseas consumers.

Meanwhile, the pickup in imports spanned all major categories except motor vehicles, with shipments of capital goods and industrial supplies both indicating robust domestic demand. 

The September figures cap a quarter that saw an improvement in the U.S. trade balance. Trade contributed 0.41 percentage point to economic growth in the third quarter, the most since the final three months of 2013. Gross domestic product increased at a 3 percent annualized rate during the period.

Other Details

After eliminating the effects of price fluctuations, which generates the numbers used to calculate GDP, the merchandise gap was little changed at $62.21 billion

Exports of services increased to a record $66.2 billion

Petroleum deficit narrowed as quantity of crude oil imports hit lowest level in two years and exports climbed

Exports and imports of goods accounted for about three-fourths of America's total trade in 2016; the U.S. typically runs a deficit in merchandise trade and a surplus in services

Before it's here, it's on the Bloomberg Terminal.
LEARN MORE