Turkey Core Inflation Hits Its Highest Level in 13 Years
By and
Core inflation jumps to 11.8 percent, highest since early 2004

Headline inflation rate highest since 2008 at 11.9 percent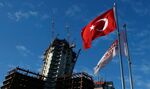 A key measure of Turkey's consumer prices that excludes volatile items such as food and energy accelerated to the highest level in more than 13 years, underscoring the central bank's challenge as it looks to lower inflation to levels that would enable cuts in borrowing costs.
Core prices rose an annual 11.8 percent in October, the highest since January 2004. Overall consumer inflation accelerated more than expected, rising 11.9 percent as a weaker lira and higher energy costs weighed on prices. That was the highest rate since 2008 and exceeded the median estimate of 11.5 percent in a Bloomberg survey of economists.
The worse-than-expected data came two days after central bank Governor Murat Cetinkaya warned of a two-month inflation blackspot through November. Consumer prices will only decelerate from the last month of the year as the depreciation in the lira and rise in oil prices continue to weigh on prices, he said. The central bank's next rates decision is on Dec. 14.
Given the elevated core index, which usually moves with a lag from the headline figure, overall consumer inflation might not decelerate as much and as fast as the central bank expects, said Inanc Sozer, a managing director of Istanbul-based Turkey Macro View Consulting.
"As the governor said, inflation continues to worsen, limiting the central bank's room to act," Sozer said. "There was long an expectation for the central bank to lower the cost of lending it provides to banks with an expected deceleration in inflation next year. Considering the level of core inflation, there can no longer be such an expectation."

The lira dropped 0.9 percent against the dollar after the report to 3.8297 as of 11:08 a.m. in Istanbul. The yield on Turkey's two-year lira notes rose 17 basis points to 13.21 percent, the highest since April 2009, according to data compiled by Bloomberg.
Announcing the central bank's latest inflation report on Wednesday, Cetinkaya said the current monetary stance was tight enough to meet the bank's official, long-term target of 5 percent inflation. The policy would be maintained into 2018 until the bank's convinced it can meet its end-of-year objective of 7 percent consumer inflation, he said.
Below are the highlights of Friday's inflation report:
The monthly rate was 2.1 percent, up from 0.65 percent in September, exceeding the median estimate of 1.7 percent in Bloomberg survey
Annual food inflation was 12.7 percent, compared with 12.5 percent in September
Transportation price index rose 16.8 percent, the most among sub-categories
Producer price index rose 17.3 percent vs 16.3 percent in September, more than the median estimate of 16 percent in a separate survey.
— With assistance by Fercan Yalinkilic
Before it's here, it's on the Bloomberg Terminal.
LEARN MORE