Ivanka Trump Touts 'Womenomics' During Japan Trip
By
U.S. first daughter lauds Abe's policies for paid family leave

Japan ranks 114th out of 144 countries in new gender-gap study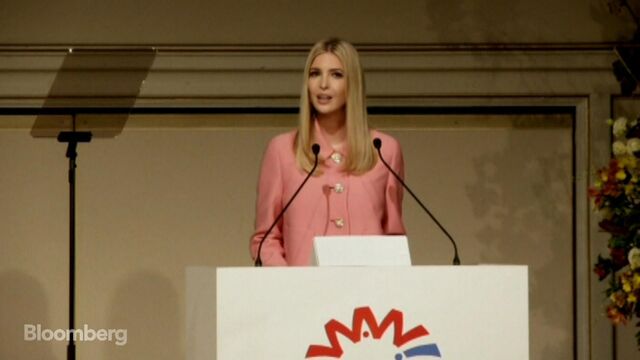 Ivanka Trump lauded the Japanese government's efforts to increase female workforce participation during a speech in Tokyo on Friday, giving a high-profile boost to Prime Minister Shinzo Abe's "Womenomics" initiative.
"Womenomics recognizes the centrality of women, who represent roughly half of our global population, in achieving true economic growth," U.S. President Donald Trump's eldest daughter said at the World Assembly for Women, hosted by Japan's foreign ministry. "When women work, it creates a unique multiplier effect: women are more likely than men to hire other women, to give them access to capital, mentorship and networks."
Japan ranks 114 out of 144 countries in the World Economic Forum's global gender gap survey, released Thursday. The country has seen reversals of progress in the number of women in positions of political power, according to the report. Only two of the 24 ministers in Abe's cabinet are women.
OECD official suggests Japan should set hiring quotas for women. Read more here.
On her first visit to Japan, the first daughter's 18-minute speech outlined a strategy for empowering women in the workplace. Corporate culture that excludes women must change, she said. Policies that create an equal playing field for things like wages, are also needed, along with encouragement for women to study science, technology, engineering, and math, said the 36-year-old mother of three. Trump also applauded Abe's policies aimed at expanding paid family leave, including for fathers.
Womenomics is a pillar of the prime minister's economic goals dubbed "Abenomics," which has so far been driven primarily by unprecedented monetary easing that sparked a stock market rally and helped drive down unemployment.
The first daughter is scheduled to dine with Abe Friday before flying out of Japan Saturday, the day before her father arrives on a three-day Japan visit that will be his first as U.S. Commander-in-Chief.
Before it's here, it's on the Bloomberg Terminal.
LEARN MORE