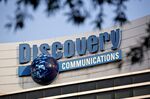 Tough audience, huh, Discovery? 
Discovery Communications Inc. this week reported what were actually decent third-quarter results. That didn't stop the unloved TV network operator's shares from getting crushed. They're down about 13 percent for the week and a miserable 40 percent for the year.

The apprehension, this time at least, centers on two numbers: 5 percent and $14.6 billion. The former is how much Discovery's total subscriber base shrank in the period. The latter is the value of its acquisition of Scripps Networks Interactive Inc., which was announced in July and is expected to close early next year -- so long as Discovery doesn't get cold feet.
Scripps, which operates HGTV, Food Network and Travel Channel, reported its own results earlier this week, revealing a steeper-than-expected decline in ratings and advertising revenue. Some analysts see these as ominous signs and suggest Discovery, which is backed by skilled dealmaker John Malone, should try to renegotiate the price of the Scripps merger or drop it entirely. But while the two companies are up against immense challenges, I don't follow the argument that Discovery is any better off without Scripps or worse off with it. 
So shareholders, take a deep breath, and then let's review the situation.
First, note that despite last quarter's weakness, Scripps's management maintained its outlook for the remainder of the year. RBC Capital Markets analyst Steven Cahall wrote in a report that this is evidence the results may be "a bit one-timey," observing that Scripps should benefit from better ad rates heading into the fourth quarter. HGTV's final season of its hit show "Fixer Upper" premieres later this month, alongside holiday programming and last month's release of new episodes of "Property Brothers." 
As for Discovery, its scariest figure was that 5 percent drop in subscribers, which was really a less-alarming 3 percent if you look at just its fully distributed networks (the ones that matter most). This means its smaller channels were largely to blame, and Discovery CEO David Zaslav has already said fewer resources are being devoted to those. Meanwhile, TLC and ID -- two of its top channels -- have shown nice ratings momentum lately. 
Now here's the key: Discovery's subscriber challenges bring us back to the main rationale for it buying Scripps in the first place. Despite having what Discovery calls some "superfan" shows like "Deadliest Catch," it is a less diversified, less powerful network operator in the grand scheme of things and it's losing subscribers amid being absent from some new TV-streaming services. YouTube TV, for example, opted to stuff its offering with costly sports content, leaving little room for niche networks.

Scripps isn't on YouTube TV either, but it has a presence on the other big ones that Discovery didn't make the cut for -- Hulu TV and Dish Network Corp.'s Sling TV. It will be difficult for most so-called skinny bundles to ignore Scripps, especially when trying to offset sports programming. Aside from HGTV still being one of the most-watched cable channels, its audience skews toward women, which remain a crucial demographic for advertisers. And if this entertainment-only bundle we keep hearing about from industry executives ever materializes, Scripps and Discovery would play a role and their relatively cheap content would help keep prices down. (You can read more about the strategic logic here.)
I won't sugarcoat it: Discovery and Scripps are absolutely feeling the effects of cord-shaving and being the smaller of the big guys in the industry. I won't even rule out Discovery trying to adjust the deal terms, though I'd be surprised if that happened heading into what may be a better quarter for Scripps.

For all the concern, analysts' 2018 Ebitda estimates for Scripps haven't come down much, so the transaction doesn't look a whole lot more expensive -- about 10 times next year's Ebitda. It's less than the multiple AT&T Inc. is paying for Time Warner Inc. and a tinge above where Walt Disney Co. and CBS Corp. trade. That said, perhaps it is an undeserving premium, and other beaten-down peers Viacom Inc. and AMC Networks Inc. command far lower valuations.   
In the end, Discovery and Scripps probably need each other. And how out of character it would be for the ever so shrewd Malone, 76, to misfire on a deal. 
Before it's here, it's on the Bloomberg Terminal.
LEARN MORE